The Ultimate LUXE Daycruiser for the Active family
The Ultimate 2020 LUXE Daycruiser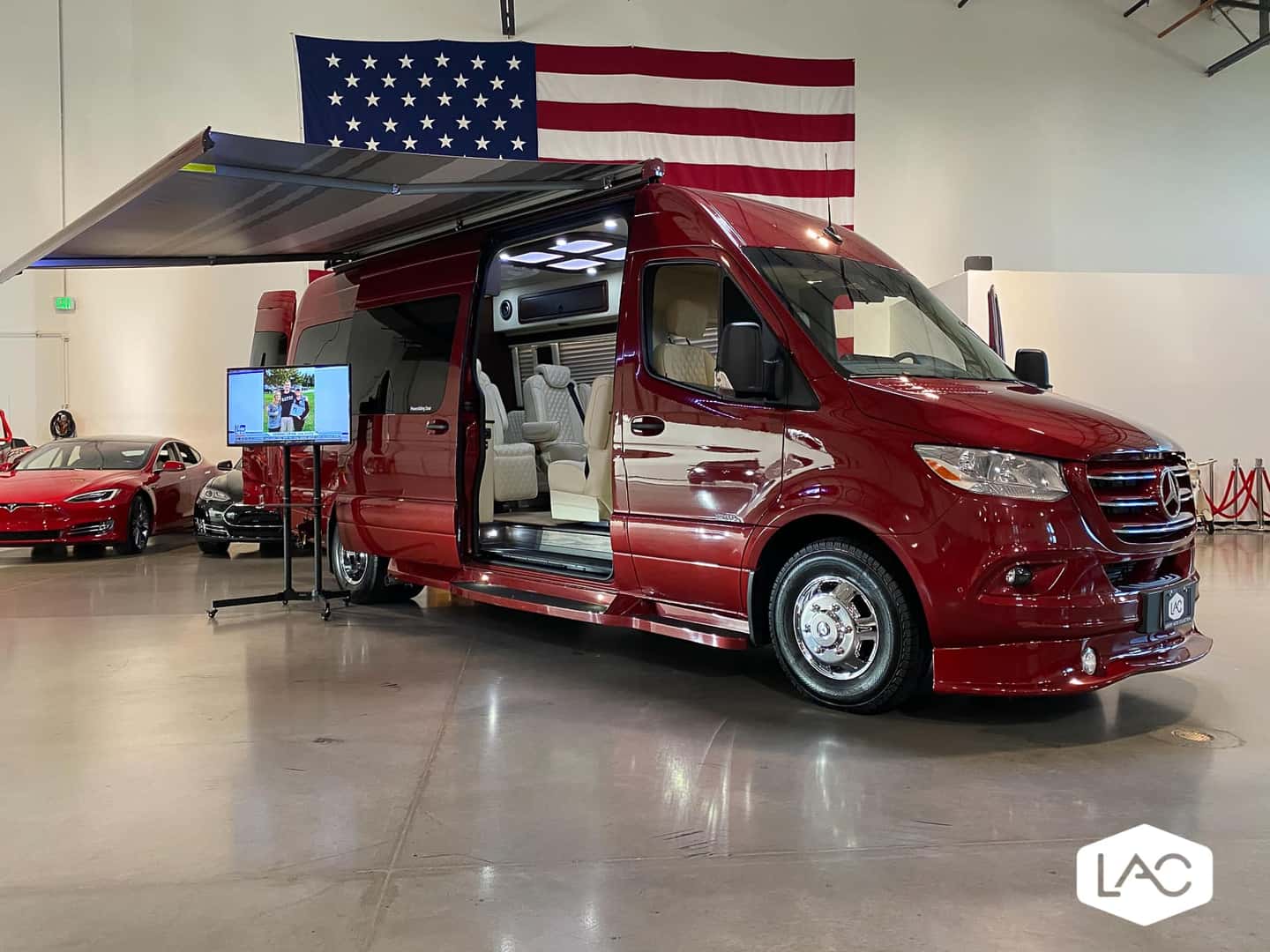 ---
When you have an active family and growing business, is there a better vehicle than our LUXE Daycruiser? We don't think so and we think this example if perfect for those work days while you are on the go and want those hours of commute back for productive use. Then on the weekends you have kiddos that are more active then you could ever imagine!
---
Privacy or Wide-Open
We came up with this configuration for you! The Arched Partition gives you the privacy you need during those on the go meetings you need a little privacy. Then when you head out with the family just remove the curtain and you have the best of both worlds.
---
Mobile Homebase
If your kids play travel sport then you have found yourself standing in a field or gym for hours with no place to go after driving hours loaded in your family SUV. Only to have just enough time to go nowhere between games, well we figured it out!
On top of our standard 60K BTU Pro-Air system for on the go, we added a 13.5K Roof-top A/C for those long days hanging on location or for an overnight pitstop. Just plug in or setup your portable inverter!
---
Tech and Entertaining
While your relaxing between games or on the road making deals everything is available from High-speed WIFI to Satellite TV. If you are a tailgater then this is for you! We added the Tailgate Prep that comes with outside speakers and HDMI port with plug for when you roll the awning out and invite the crew up for a true pre-game in style!
---
Comfort and Relaxation
Now that you are done with all the work and fun it is time to lay back and relax in the heated, massaging hand stitched industry leading captains chairs. Those rear captain chairs also include child restraint LATCH system mounts and the rear couches fold down to sleep two.
---
Business End for Fuel and Go..
With the current climate of Covid-19, we have had to adjust to a new way of traveling and a lot of customers have found the LUXE Daycruiser the perfect traveling capsule that allows you to truly travel with zero contact. You have everything you need with a bath/kitchenette  in the rear with a fridge, microwave, sink and true RV toilet. Non of that normal van converter cassette toilet non-sense. So all you need to do is stop…fuel up…hit the road again! No need to head inside or touch anything that is not yours.