PetSafe Travel SmartKey Bypass for Service
Introduction
It is recommended that the PetSafe Travel SmartKey Starter® be bypassed when performing any software updates or mechanical service.
It is also recommended that the SmartKey Starter® be bypassed as a standard practice for troubleshooting any issues with the vehicle.
To make bypassing the system easier, we have developed a set of jumpers that, when used, will completely bypass the PetSafe Travel. Rather than disconnecting the T-harness, the modules can be unplugged and replaced with "jumpers." It is possible to mount the modules in a position where the jumpers can be installed to bypass the system in as little as 2 minutes. This guide demonstrates how to use the jumpers to bypass the system
If you would like to be sent jumpers for bypassing a system, please email [email protected] with your software version and address and a set of jumpers will be sent to you.
If you do not have jumpers and need to bypass the system, please use this guide to bypass the system at the T-harnessing please contact your salesperson and we can help you with that issue.
SERVICE TECHS:
If you are servicing the vehicle and have any questions, please do not hesitate to contact us at 312-421-1114 and let us know you are working on a Sprinter with the SmartKey Starter system.
Step 1: 
Locate SmartKey Starter modules on the driver side under the dash area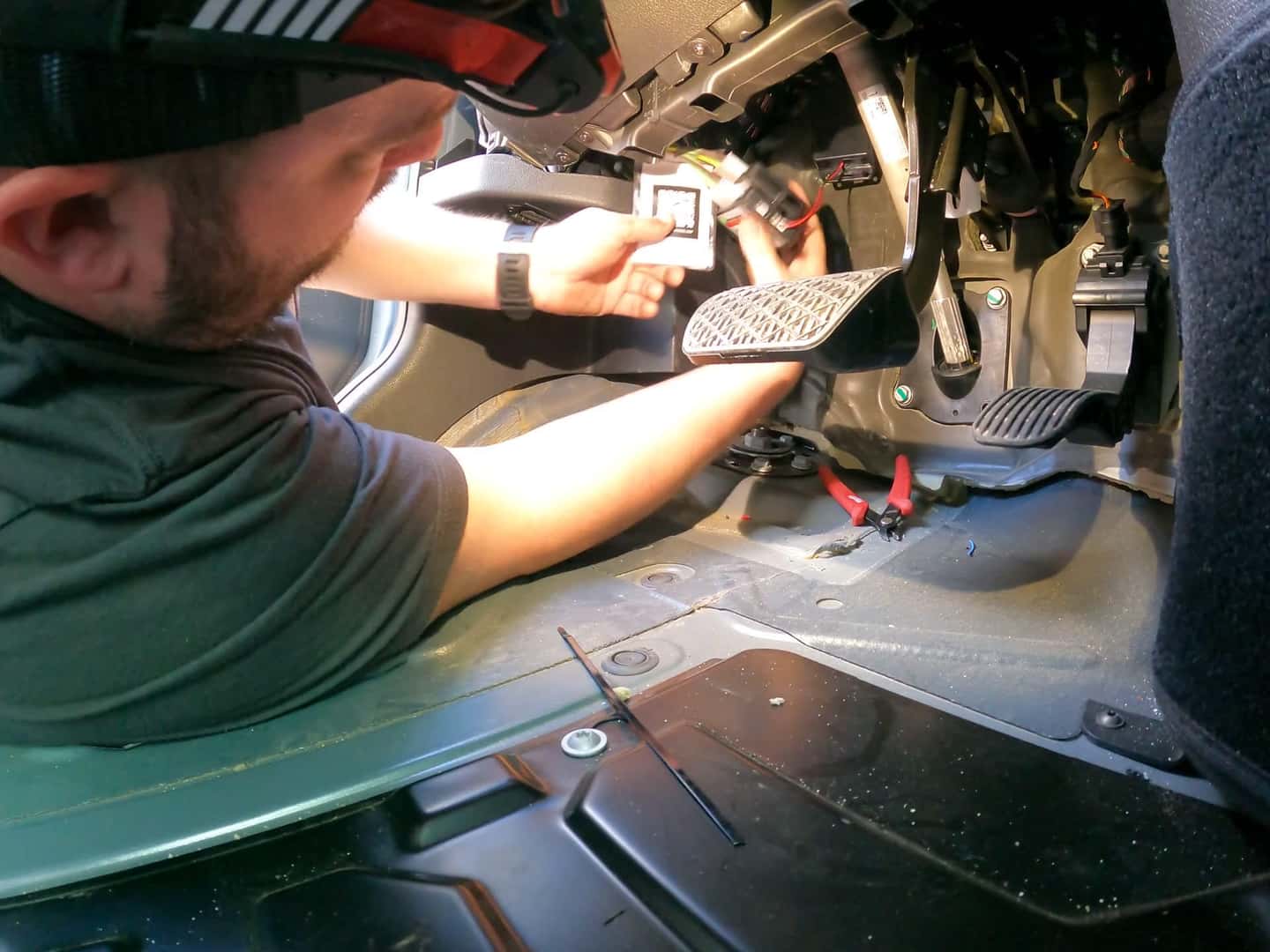 The main plug at the module labeled 'SKSPCM' is either a 20 pin or 16 pins connector
Step 2: 
Connect jumpers to the main T-harness plug
Un-plug the SmartKey Starter and SKSPCM modules from the T-harnessing
Connect jumpers to the main T-harnessing plug
If the SKSPCM module has a 16-pin plug, you will need a jumper with a 20-pin and 16-pin connector. Connect the SmartKey Starter module to the 20 pin jumper and the SKSPCM module to the 16 pin jumper
Step 3:  
NOTE WHEN
REMOVING
BYPASS
If both modules have 20-pin plugs, it is important that the T-harness plugs are connected to their correct module

One of the 20 pin connectors on the T-harness will have either a green sticker or another marking. This connector must be connected to the module labeled 'SKSPCM'
If the SKSPCM module has a 16 pin plug, it will only connect to the 16 pin T-harness plug