Jaguar XF Sportbrake S AWD vs. Mercedes-Benz E400 4Matic, Volvo V90 T6 AWD
Jaguar XF Sportbrake S AWD vs. Mercedes-Benz E400 4Matic, Volvo V90 T6 AWD
They're foreign. They're expensive. People may think they're downright strange. They're the neo-wagons, and we welcome them.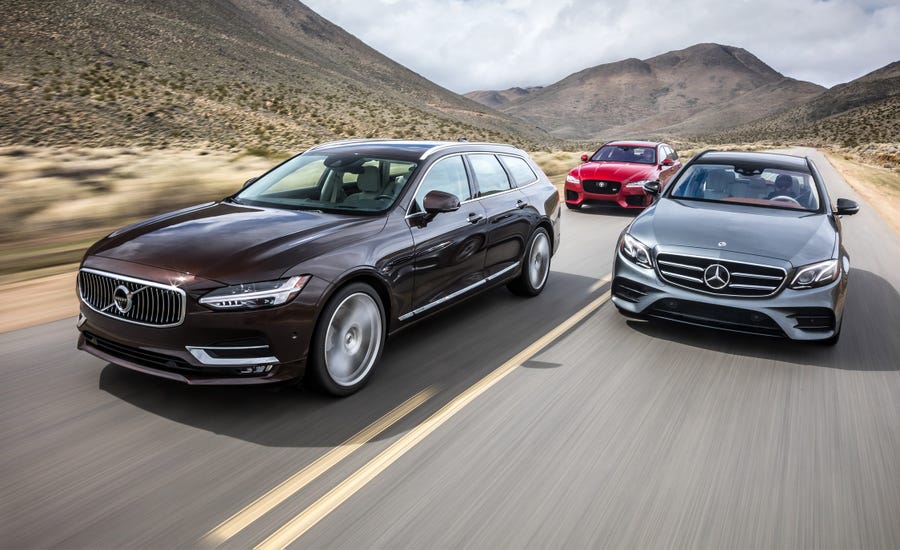 From the June 2018 issue
Trying to save the wagon from the northern white rhino's fate isn't going to be easy. We've got work to do, but since you're a loyal reader and you've heard our pleas before, we'll keep it brief. Here's the pitch: Wagons are more practical than sedans, have the space you need, are more fun to drive and more efficient than sport-utility vehicles, and look better than the sedans on which they're based. But the message isn't getting out. The stigma is an old and powerful one. Wagons have fake-wood paneling, represent suburban boredom, and we can sort of remember carpooling in the back of one with a neighbor who smelled like pee. Those first two things just aren't true anymore. The new-era wagon's rarity means that only iconoclasts buy them. Or weirdos. Our kind of weirdos. Dealers might stock one or two, if you're lucky. Finding one probably won't be easy. You've got to want it. I think I saw one in the back.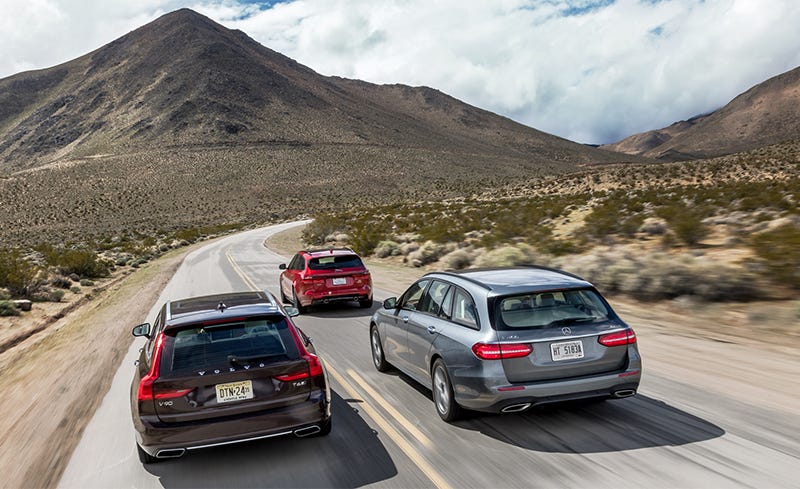 Things are different in Europe, of course. Over there, old folks buy sedans, and the four-door shape suffers the same sort of perception problem as the bepaneled family wagon does here. SUVs sell well, but the high cost of fuel has kept them from dominating the sales charts. Young, active Europeans, the kind who strap kayaks to roof racks and fill their Instagram feeds with photos of sunsets and pretzels, are the neo-wagon buyers. So it should come as no surprise that the wagons we gathered for this comparison test are from the other side of the Atlantic.
The Mercedes-Benz E400 4MATIC wagon, a stalwart of upper-crust America, is from Germany and is the most traditionally styled and upright of the trio. The Benz starts at $64,045 and delivers 329 horsepower from a twin-turbocharged V-6. All-wheel drive is standard, but the option catalog is massive. Kept near its base price, the Benz strikes us as a good buy, but its value degrades when loaded up with our test car's $25,855 worth of extras.
Jaguar, a company that hasn't imported a wagon since the X-type wagon nailed itself to showroom floors a decade ago, is reentering the American long-roof market with the XF Sportbrake S AWD. A 380-hp supercharged bolide, the XF wagon is arguably the second-best-looking Jaguar available today—the F-type still wears the crown. New for 2018, the Sportbrake comes in a single mechanical spec with the blower V-6 and all-wheel drive. Starting at $71,445, our test car came with nearly all the toys for $84,815.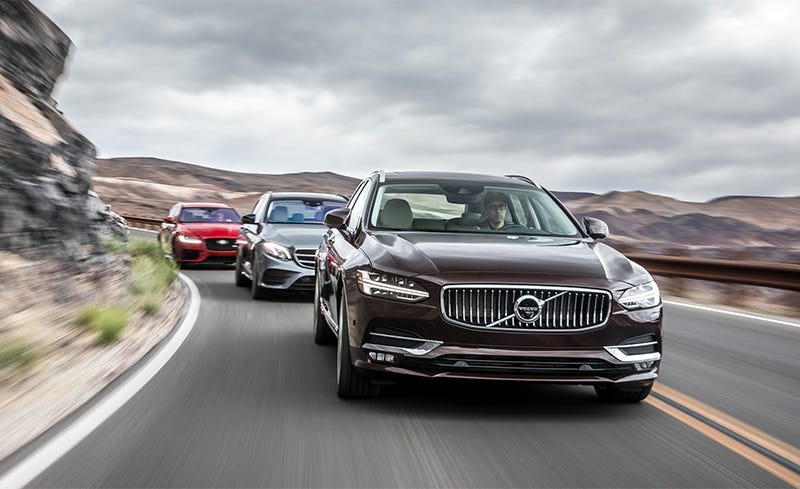 Sweden still builds wagons, too, although to get a Volvo V90 T6 AWD, you'll have to special order it. Dealers will stock the lifted and plastic-clad V90 Cross Country without your involvement, but the V90 will require you to convince your salesperson that you really don't want the Cross Country they have in stock. For your trouble, you'll get a gorgeous all-wheel-drive wagon with no cladding and Volvo's supercharged and turbocharged 2.0-liter inline-four with 316 horsepower. In this company, the Volvo's $58,945 starting price makes it the least expensive. Even with nearly every option box ticked, the Volvo comes in at $69,340.
The group would have been larger, but Audi and BMW don't import the A6 Avant and 5-series Touring, respectively. Instead, they direct wagon customers to the smaller A4 Allroad and 3-series Sports Wagon. So we set out in these three mid-size family wagons to spread the gospel and to find out which is the best. It turned out to be much closer than we'd ever imagined.
 BY TONY QUIROGA PHOTOS BY MARC URBANO
See more Cars and Driver