HuntForDrive: DRIVE, EAT, SLEEP, REPEAT What the road rallies are all about!
Great Article From: Hunt for Drive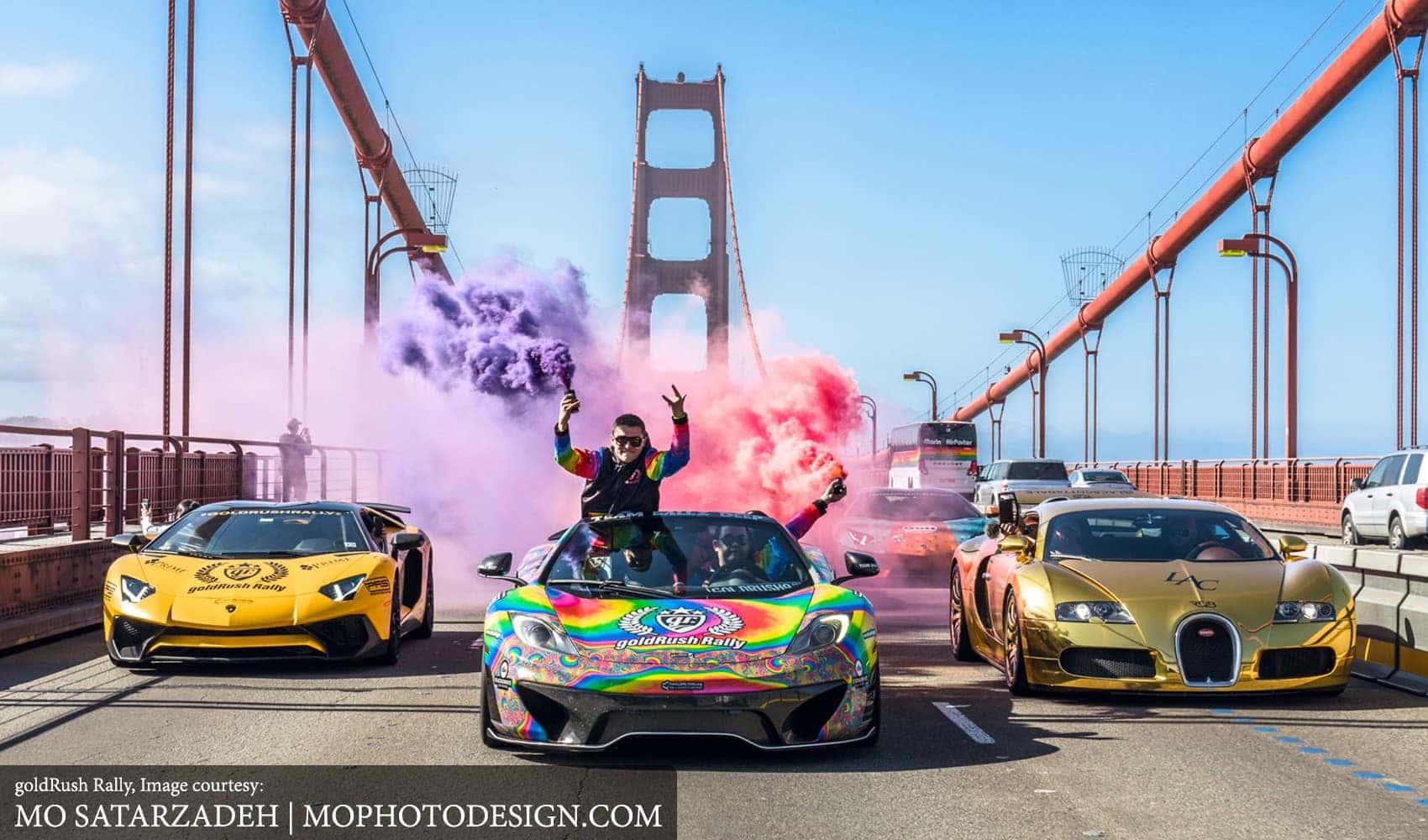 In the early 1980s, a cult classic film was released; Cannonball Run. The film was a road trip of epic proportions, and since then, events have sprung up emulating the adventure portrayed in the film. While they will include some of the finest (and most expensive) cars ever made, entering such a rally can be achievable without a life-changing lottery win – it's not uncommon to see fantastic examples of sports cars included in the rally – production cars costing no more than £50 or £60 thousand. Expensive, yes, but achievable.
Photo by: Katarzyna Farat from: Cannonball Ireland
What's it all about?
First and foremost, exotic rallies are not races. They take place on public roads, and while there may be elements of closed-road action, these tend to be more along the lines of exhibition events. Typically rallies will be several thousand miles long and take place over a week. Again, it's about hitting checkpoints, and completing each day's route within the confines of the laws, but surrounded by some of the most beautiful cars in the world.
Photo by: Leila Navidi of Star Tribune from Crown Rally
Exotic car rallies are about a once-in-a-lifetime experience. Taking part in something that may well see A-list celebrities mixing it with members of the public who have saved for a few years to be able to take part. But at these events, everyone is equal. Brought together by their love of cars, and celebrating some amazing driving routes across Europe, Asia, America and Australia. The other element of these rallies is the party atmosphere. Most nights will feature a celebrity style champaign fuelled party that you will love to be a part of.
Where can i join?
There are a number of event series that take place annually, across three or four continents. Most will offer different routes each year, taking in some of the most iconic capital cities and monuments of the world.
Video by Cast Productions from goldRush Rally
With events changing routes every year, there's bound to be something that suits you – maybe not this year, but keep an eye out in advance as places are limited and get booked up fairly quickly.
Are they accessible?
Thankfully, yes. There will be some of the most expensive production cars in the world at many of them, but you don't have to own a supercar to take part. Many exotic rallies include cars that are much more accessible. It's not uncommon to see standard Porsche 911s and Ford Mustangs in the line up, and neither do they have to be brand new – some 10 to 15 year old cars will be seen in every line-up and while expensive, they are realistic ownership aspirations for the not so rich and famous.
Video from Pure Rally UK 2017 by Pure Rally
How large a commitment?
In some respects, this is the same as asking how long a piece of string is. With rallies including accommodation, entertainment and party events, the price will change year on year, depending on the precise schedule, but there are some more affordable options for the first-timers.
The ultimate exotic rally is arguably the Gumball 3000. Seeing some of the most expensive cars, mixed with some more affordable luxury motors, this event will attract celebrities, previous entrants and newbies alike. Entry fees vary, but expect to pay around the £40,000 mark per entrant, alongside the cost of your car.
This is the high point to aim at, but there are some easier entry level exotic events to give you a taster.
A more realistic starting point…
Similar to the Gumball Rally, the Modball Rally sees cars that have a minimum of two modifications (although most will have many more than this) taking part in a week-long trip, including up to seven parties! This event really focusses on having fun, and socialising with your fellow competitors and fans, so expect to make lots of friends very quickly!
Image courtesy: Modball Rally
Sharing the burden
Given the mileage involved in these rallies, it's unsurprising that they work on the basis of sharing the driving with a co-driver. With routes changing every year, and many rallies only issuing guidance and information on the days activities in the morning, so having a partner with you will be invaluable. Plus, many costs are per car, so splitting these makes them more bearable!
Photo by: Gil Folk from FOG Rally
What to expect on a rally
Unlike classic events, where some organisers will lay on cars for the duration, you will have to bring your own vehicle to these events, and associated with that will be special insurances. Not racing licenses, as these are not races, but insurance for events, rallies and prolonged driving is often excluded from a standard policy. You may want to think about public liability insurance as well, but each event will give you recommendations as to what you need.
With long routes, the logistics are incredibly complex, and for that reason, the organisers will usually arrange accommodation and catering, although any subsidiary costs – snacks during the day, refreshments and of course fuel – will have to be met by you.
Photo by: Sam Moores from Atlantic Road Trip
With routes taking in some awesome scenery as well as some motorway / freeway routes, there will be a real mix. As they attract celebrities, expect lots of fans at the start and end of stages as well as some press activity. While the cars are the stars, you will doubtless get some interest too, so be aware that there will be an expectation for you to maintain the goon name of the event you are enjoying!
Photo by: Andrew Lofthouse from Atlantic Road Trip
Sounds great… sign me up
With limited entries, but wide open car specifications, unlike classic rallies, it's more a case of first come, first served, so if you see an event you want to be part of… sign up!
Again, with logistics and accommodation arranged, it's time to focus on your car – modding it if necessary, picking a co-driver and hitting the road! You're going to see some great cars, meet some great people and be the centre of attention at stage end media events!
Find your perfect car rally here