CARSANDDRIVER: Corvette ZR1 vs. SL65 AMG Black Series, Murcielago LP640, Viper SRT10
Corvette ZR1 vs. SL65 AMG Black Series, Murcielago LP640, Viper SRT10
With 600 hp (and then some), these supercars are at the pinnacle of the automotive food chain. Just like dinosaurs, they may be doomed.
MARCH 2009 
BY MARK GILLIES PHOTOS
BY MORGAN SEGAL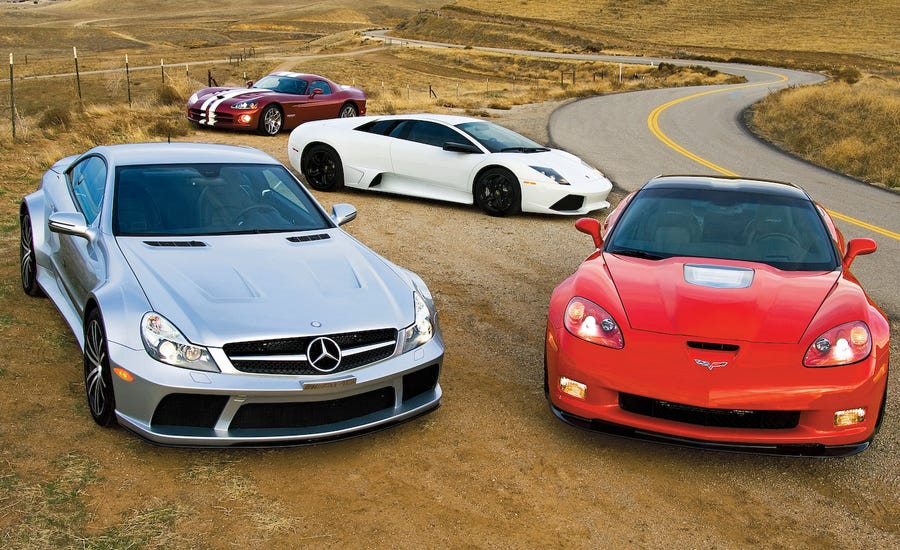 It's easy to diss old-fashioned people as dinosaurs, with their plodding resistance to change, but think about this: Those lumbering, small-brained behemoths ruled the earth for 165 million years, which is a lot longer than Homo sapiens have been in charge of messing up the planet.
Although Diplodocus had similar brain power to bankers who thought asset-backed securities were a sure thing, you've still got to be impressed with this 90-foot-long, 20-ton beast that perambulated the third planet from the sun all those years ago.
Like dinosaurs, the 600-horsepower beasts gathered here could soon become extinct, but they are also highly impressive. Machines that weigh as much as two tons and sport massive 12-cylinder engines aren't exactly in tune with the zeitgeist, which is increasingly angst-ridden over global warming, dependence on foreign oil, and the greening of energy. Performance cars may soon become more fuel efficient—lighter and more compact, with smaller engines. No doubt they'll be great to drive, but they won't be as dramatic as a Dodge Viper or a Lamborghini Murciélago in full flight.
The Viper is pretty familiar now. The current-generation roadster went on sale in 2003, with the coupe following as a 2006 model. In 2008, it got a 600-hp, 8.4-liter V-10 with trick variable valve timing to replace the 510-hp, 8.3-liter unit. Dodge also revised the suspension and fitted a GKN torque-sensing differential, which made the car more stable and forgiving.
The Murciélago has been around for a while, too, debuting in 2001. Tracing its lineage back to the Countach of 1974, the car was revised in 2007 as the LP640, featuring a 6.5-liter V-12 making 632 horsepower, an increase of 60 over the previous 6.2-liter engine's output. Lamborghini also added carbon-ceramic brakes, tidied up the interior, and tweaked the suspension.
The Chevrolet Corvette ZR1 went on sale at the end of 2008 as a 2009 model. It is the fastest and most expensive Corvette ever, makes extensive use of carbon-fiber components, has carbon-ceramic brakes, and is motivated by the most powerful small-block Chevy ever—a supercharged 6.2-liter, LS9 V-8 engine that produces 638 horsepower.
The ZR1 isn't the most powerful car of this pack, though. That distinction goes to the 2010 Mercedes-Benz SL65 AMG Black Series. This is a massively reworked SL65 with carbon-fiber-reinforced plastic bodywork for the front fenders, the hood, the trunk, and the fixed coupe roof (which replaces the SL's usual folding hardtop). The 6.0-liter, twin-turbo V-12 is the same as the SL65's except that larger turbochargers, a modified intake, and redesigned mufflers boost power from 604 horses to a bodacious 661. Drivetrain components have been beefed up, along with the braking system, which sports 15.4-inch front rotors and 14.2-inch discs at the back. An adjustable coil-over suspension replaces the coil springs and the automatic, hydraulic self-leveling springs on the other SL variants. Beautiful, forged aluminum wheels carry 265/35R-19 Dunlop tires up front, with 325/30R-20s in back.
At the end of our time with the four cars, when we were filling their tanks with premium—ironic, so-called dinosaurs being fueled by the remains of the real thing—a youngish guy came bounding over, eyes bulging in disbelief. He exclaimed in a whispery voice: "I feel like I'm surrounded by women—they're all so beautiful." Indeed. Enthusiasts will look back at the first decade of the 21st century as a golden age. We may never see cars like this again.
Fourth: 2009 Dodge Viper SRT10
Third: 2010 Mercedes-Benz SL65 AMG Black Series
Second: 2009 Lamborghini Murcielago LP640