CARSANDDRIVER: 2017 Jaguar XE Long-Term Road Test Wrap-Up
2017 Jaguar XE
Gone flat.
APRIL 2018 
BY JEFF SABATINI 
PHOTOS BY MARC URBANO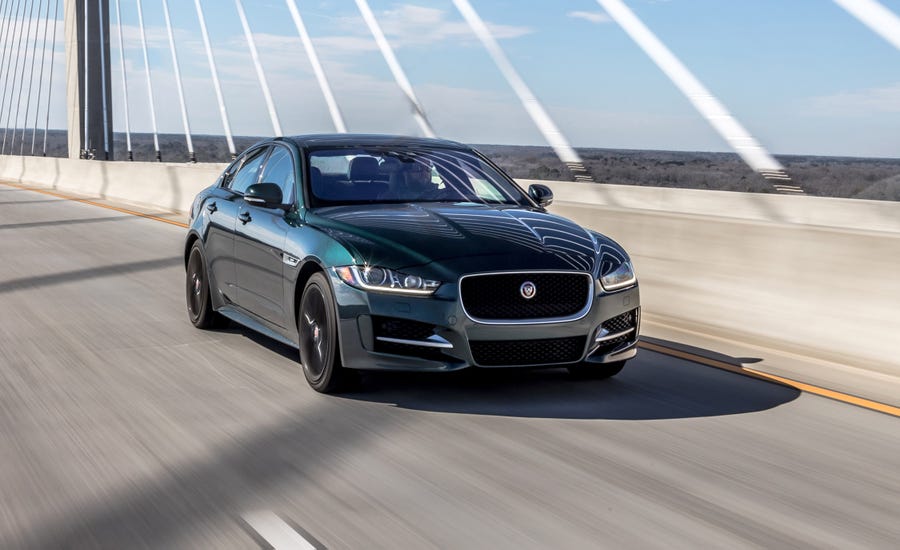 From the May 2018 issue
Car enthusiasts are, by definition, tire enthusiasts. Tires are our beasts of burden; their grip, or lack thereof, enables us to exercise our passions. Tires are also beautiful things to behold, from their circular perfection to their psychedelic tread patterns. Tires engage our senses and, with their nearly inscrutable taxonomy of sizes and codes, also our minds. Speak to any engineer about tires and you will inevitably be told of the "black arts" involved in their design and creation, a fitting invocation for these most magical of auto parts. Who among us has not lovingly dragged a finger across the raised surface of a sidewall while waiting on new rubber at the local shop?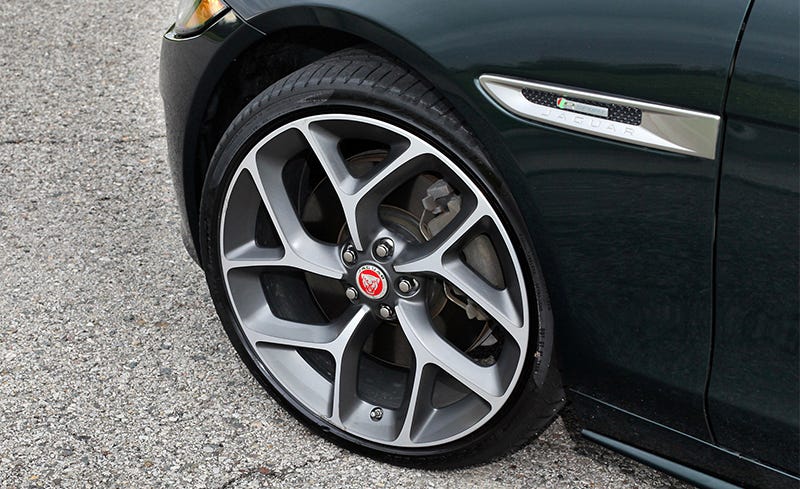 So it was with great excitement that we received our long-term 2017 Jaguar XE in September 2016 with not one but two sets of wheels and tires. While our test car arrived wearing the black 19-inch Venom wheels ($500) with all-seasons that we had originally ordered, we asked Jaguar to send us a set of 20-inch Propeller wheels ($1000) so we could get some additional test numbers for another story on the optional summer fitment. We took one look at those 10-spoke monsters wrapped in staggered Pirelli P Zeros with sidewalls as thin as rubber bands (sizes 235/35R-20 front and 265/30R-20 rear) and immediately decided we would run them for this long-term test.
With a base price of $52,695, our V-6–powered 35t R-Sport AWD was Jag's top-of-the-line XE through 2017. (For the 2018 model year, the 35t was replaced by a four-cylinder 30t and usurped by a 380-hp XE S.) As it's a compact sports sedan that promised to shake up the German-dominated pecking order, it was therefore appropriate that our car was sprayed in a metallic British Racing Green ($550). We opted for the $2700 Technology package, with its 10.2-inch touchscreen and premium Meridian audio system, and we ticked the Comfort & Convenience package ($2100) primarily to get the climate-controlled front seats and heated rear seats. We allocated just $300 to dress up the cabin with burled-ash trim, which did little to offset the gloominess of the predominantly black interior. The Jaguar's ultimate sticker price totaled $59,345, including the Propellers.
"It has intuitive steering, a brilliant ride-handling balance, a powerful and responsive engine with a crackling soundtrack, and expressive and sporty looks. It's all here." —Rich Ceppos, Buyer's Guide Senior Editor
In retrospect, the decision to install the more aggressive wheel-and-tire combo may not have been our clearest thinking, especially given our XE's hefty 4036-pound curb weight. Certainly we have made this mistake before, forgetting just how poorly maintained our local roads are during and after the annual pothole season. But disremembering winter is what defines a true Michigander. And we were also seduced by a second stack of Pirellis that came on a subsequent UPS truck; Jaguar wanted to make sure we had absolutely fresh tires for our test. So we mounted them and hustled off to the track, where those 20-inch P Zeros helped the Jag record 0.93 g on the skidpad and post a 147-foot stop from 70 mph. Impressive numbers both, especially compared with our testing on the smaller Pirelli Cinturato P7 All Seasons (0.87 g and 170 feet).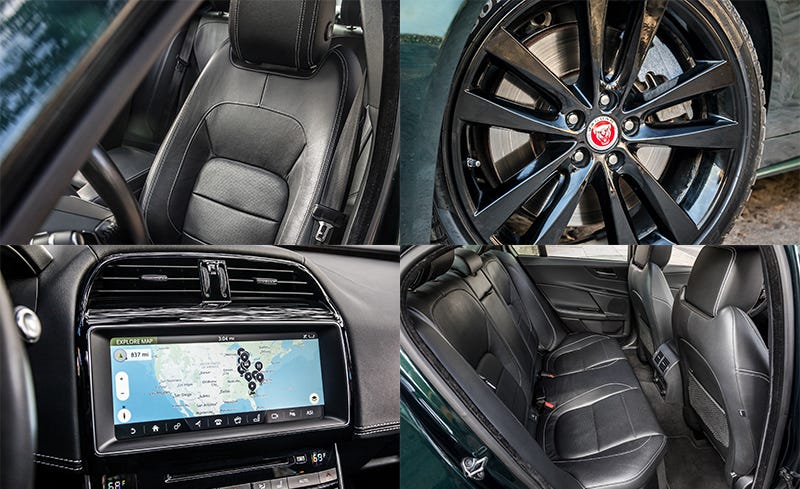 The XE's 340-hp supercharged V-6 was good for a 4.8-second zero-to-60-mph sprint, hitting the quarter-mile mark in 13.4 seconds (both numbers improved by a tenth of a second at the conclusion of our test). Some staffers, however, were shocked to learn that Jaguar creates its V-6 by casting its V-8 block with just six cylinder bores. Still, initial impressions of the XE were positive: Logbook entries raved about its good looks and faithful driving dynamics. More than one commenter indulged in comparisons with long-out-of-production BMW models, heaping praise on the XE's spectacular steering feel. And even an editor who banged his head on the tiny rear-door aperture when getting into the back seat was inclined to write off the incident as unimportant: "You don't buy a compact sports sedan for its back seat, you buy it for how it drives, and this one drives better than most."
We replaced our first damaged tire just five days after initial testing, when the right front developed a sidewall bubble. Six weeks later, with less than 7000 miles on the odometer, it happened again. Two weeks after that, it had gotten cold enough to switch to winter tires—a set of Pirelli Winter Sottozero 3s that we mounted on the black 19-inch wheels, thinking a little more sidewall couldn't hurt. We thus managed to go four months and add another 8000 miles to the odometer without any tire carnage, the Jag's all-wheel-drive system proving itself a useful asset.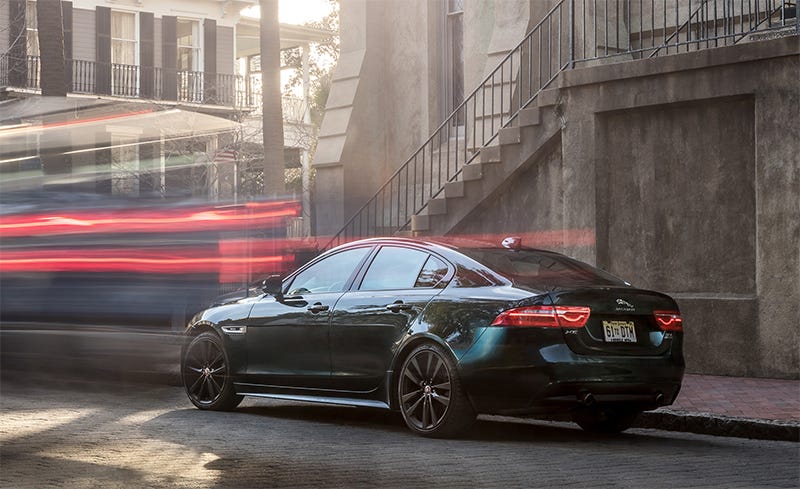 This gave us time to address the other issues that had since materialized: a loud, throttle-dependent whirring and clatter coming from the engine compartment, and an infotainment system that was freezing almost as often as the outside temperature. The entire infotainment unit wound up being replaced under warranty after the dealership was unable to update it with Jaguar's software fix for such trouble. The underhood sounds proved much more elusive, both to describe and to repair. First the dealer told us we had a bad idler pulley, but after the shop replaced the pulley—which required a subsequent visit—something was still making a racket. The dealer then found two bad fuel pumps and replaced them under warranty during a 13-day service visit. Still noisy.
With the dealer unable to find anything else to fix and an assurance that this was how our XE was supposed to sound, we gave up and moved on. Or some of us did, at least, convincing ourselves that the noises weren't as bad as before or just drowning out whatever it was by cranking the excellent Meridian audio system. Our measurements, however, confirm that the car did get noisier. By the end of our test, the XE was four decibels louder at idle and three louder at wide-open throttle than when the car was first delivered. "It sounds as if marbles are eternally being ground into glass shards," wrote reviews editor Josh Jacquot. Technical editor David Beard's prose was less purple: "It sounds like a snowplow going down a gravel road."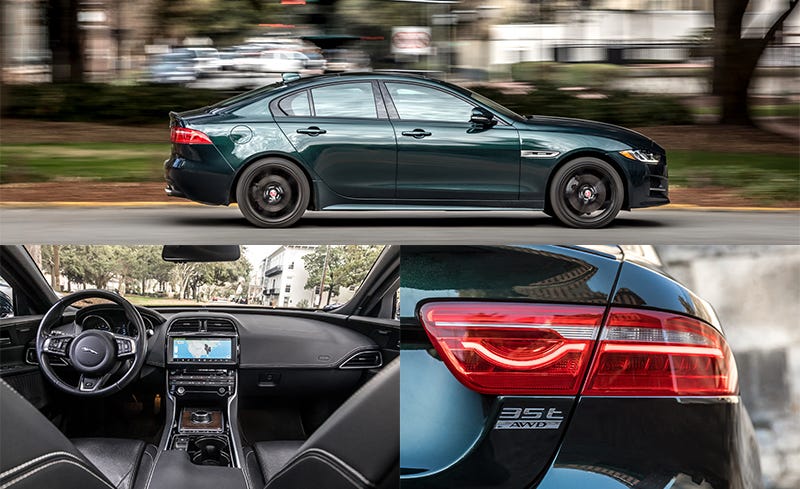 One of the Sottozeros succumbed to such a road in late March last year. We then decided to deploy the set of all-season tires for a month, just until it warmed up enough to get the summer rubber back on the car. Once the P Zeros were remounted, the Jag picked right up where it left off, destroying both its right-side tires in May, then again in June. When we discovered a nail in the left-rear tire a week later, we checked all four corners and found that both right-side wheels were bent. So we put the spare all-season tires back on and sent the wheels out for a $290 repair. In a small victory, we were able to plug the nail hole in the tire, thus (temporarily) holding the kill count to seven.
Despite the constant threat of flat tires and the din of its engine, the Jaguar still had its admirers among our staff. "I'm in love," wrote Buyer's Guide senior editor Rich Ceppos. "This XE is everything a sports sedan should be. It has intuitive steering, a brilliant ride-handling balance, a powerful and responsive engine with a crackling soundtrack, and expressive and sporty looks. It's all here."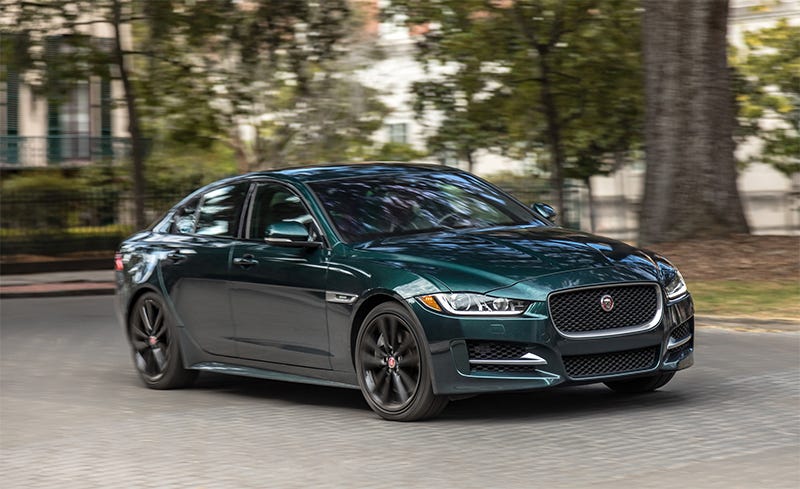 Indeed, even the car's detractors would admit that the XE is a mechanically impressive package. But during the long stretches in which we had its winter tires fitted and the short ones in which we pressed the all-seasons into backup duty, we became conscious of how much of the XE's lightning-quick responses are tire dependent—and how much less fun it is to drive without those P Zeros. And if you're not wholly consumed with the thrills provided by the XE driving experience, you'll start to notice things like the hard, flat seats and the austere cockpit. "I'd not recommend it to anyone," wrote senior online editor Kevin A. Wilson, one of the car's biggest—and most conflicted—fans, "and yet I want to keep it."
The tire count remained unchanged for three full months, until we discovered more bulging sidewalls on both front tires in early October, along with a bent wheel on the left side. But nothing that writing more checks couldn't fix: another $170 for wheel repair, $520 to the Tire Rack, and $78 for installation. Fortunately, the onset of cold weather meant we completed the last 10,000 uneventful miles riding on winter tires. That is, until we went to conduct the XE's final performance evaluation and discovered a chunk of tread missing from a rear summer tire. The final tally: 10 replacement tires and three bent wheels, at a cost of roughly $3600.
Perhaps we should have known better. Maybe our initial overabundance—a dozen tires!—might have been an omen. But at the time, we interpreted it as a reason to rejoice. We truly love tires. Or at least we did. After spending over 16 months with the XE's, we're kind of, er, tired of them.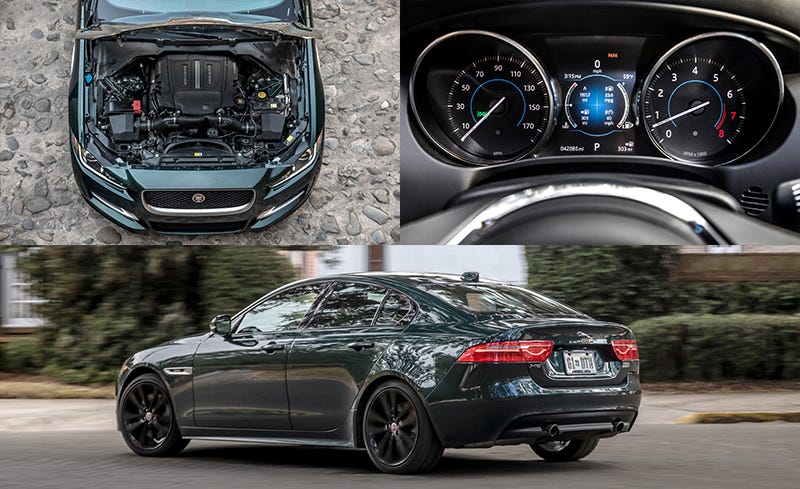 Rants & Raves
"So much better on the summer tires. Gains a final measure of responsiveness and refinement absent on the all-seasons." —Erik Johnson
"I like the car, but the thing in the dashboard [the infotainment system] is rubbish." —Kevin A. Wilson
"Wouldn't it be nice to sample a Jag that dispelled the stereotype for electronic glitches?" —Rusty Blackwell
"This engine sounds worse than every 2018 Grammy-nominated artist." —David Beard
"This is a fine driver's car." —Kirk Seaman
"I quite like driving this car, but it's comical how slow and buggy this infotainment interface is." —Mike Sutton
"Even as a larger gentleman, I didn't find the seats uncomfortable after my three-hour journey." —Maxwell Mortimer
"This engine is loud, coarse, raspy, and generally unrefined. I'd take a BMW inline-six over this V-6 any day." —Joseph Capparella
"It was easy and fun to drive through the Smokies and West Virginia. Super acceleration and braking, and comfortable for hours at a time." —Juli Burke
"Pleasantly surprised to push 30 mpg overall on our road trip." —Pete Bigelow
Great Article from: Cars and Driver