CARANDDRIVER: 2019 Chevrolet Corvette ZR1 vs. 2018 Porsche 911 GT2 RS
The most powerful production versions of the Corvette and 911 probe the boundaries of road-car capabilities.
From the August 2018 issue
Rivalries never rest. A Bostonian's contempt for New York doesn't stop at baseball. Even when the Bears are garbage, the Packers don't phone it in. The Wendy's Twitter account won't back down just because the McDonald's social-media team can't field a comeback.
Corvette versus 911 is no different. This 53-year-old battle will never be over, and at the moment, the competition is as fierce as it's ever been. With the near simultaneous releases of the 755-hp Chevrolet Corvette ZR1 and the 700-hp Porsche 911 GT2 RS, we're witnessing the ultimate showdown of the ultimate automotive adversaries. Here, these icons transcend their stations as sports cars to become legitimate supercars, each carrying a sticker price roughly three times that of the entry car on which it's based.
With great power comes great irresponsibility. Both of these cars wrangle their starts-with-a-seven power outputs with carbon-ceramic brakes, Michelin Pilot Sport Cup 2 tires, and tall carbon-fiber wings to keep them planted. They perform at the contemporary limits of a street car's capabilities. One will accelerate to 60 mph quicker than any other rear-wheel-drive car we've tested. The other brakes and corners on par with the stickiest street cars. You can understand how we were driven to do rash and impulsive things—such as stage a comparison test of two cars with sticker prices separated by $204,920.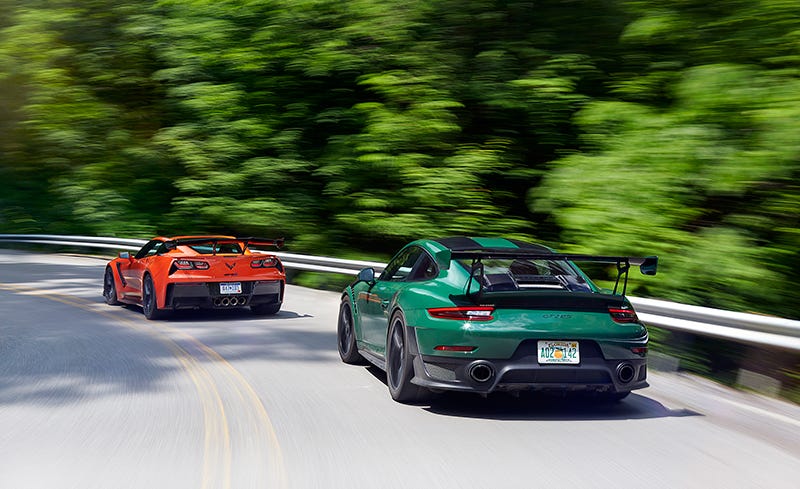 What appear to be the GT2 RS's tailpipes are dummies mounted to the rear fascia. That's out of character for a product of Porsche's GT department.
Yes, we took some liberties with this one. If we had let the Car and Driver Indecision Vanquisher do its thing, the Chevy would have taken 20 points in the price category to the Porsche's negative nine. That would have ended this face-off before it started. So we halved the price category to 10 points. The Corvette gets 10 points, the 911 gets one. You can direct your outrage toward your local congressperson.
Chevrolet's Corvette ZR1 opens at $122,095 with a seven-speed manual transmission and Michelin Pilot Super Sports. Our test car raised the ante with the eight-speed automatic transmission ($1725), the 3ZR package of luxury equipment ($10,000), and the Sebring Orange Design package ($6995), which includes orange paint, calipers, and stitching; plus competition seats, dark wheels, and bronze-colored aluminum trim that you would swear is plastic. The $2995 ZTK Track Performance package brings the two-position high rear wing, removable carbon-fiber end plates for the front splitter, the Cup 2 tires, stiffer springs, and tweaked magnetorheological damper tuning. Total cost for this 755-hp star-spangled patriot: $143,810.
The 911 GT2 RS's base price of $294,250 rapidly inflates with a short but steep options list. The $18,000 Weissach package trims 13.4 pounds with a handful of carbon-fiber bits—roof, anti-roll bars, paddle shifters—in place of standard metal pieces. A $13,000 set of magnesium wheels knocks off another 25 pounds. British Racing Green paint ($12,830), a front-axle lifter ($3490), a leather-and-Alcantara interior ($3480), a Bose stereo ($1600), and a few sub-$1000 extras bring the final price to $348,730.
What's the right piece of asphalt to exercise 700 or more horsepower on track rubber? A world-class road course, obviously. Our annual Lightning Lap test will reveal what these cars can do around Virginia International Raceway, but you'll have to wait for our October issue to see how that went. For the moment, we're celebrating them in all of their road-legal excess. As preposterous as these two supercars may be, they've both cleared the hurdles of the EPA, NHTSA, and their respective corporate legal teams to earn their license plates. We programmed the nav systems for Charleston, West Virginia, where, after three days in the Car and Driver comparison-test coal mines, we emerged with a new champion. For now.
To check out the final scoring performance data and complete specs click HERE.
ARTICLE BY: ERIC TINGWALL 
PHOTOS BY: GREG PAJO