CARANDDRIVER: 2019 Aston Martin DBS Superleggera
It's a good thing you can't see the gorgeous, flowing Superleggera script adorning each of the Aston Martin DBS Superleggera's hood strakes from the driver's seat. Catching a glimpse of that chromed cursive while piloting Aston's newest flagship might clash with the other stimuli tickling your senses.
HIGHS
Knockout looks, everyday livable interior, plenty of horsepower.
LOWS
A Superleggera that feels superheavy, odd oil-pump whine, rear seats merely decorative.
This 715-hp coupe throws plenty at you from its perch above the DB11 and the new Vantage. Endless thrust and incredible noise. The sensuous feel of the interior's microsuede and Bridge of Weir leather. Since licking is a sensory action we assume to be reserved for those who actually pay the $308,081 and up Aston charges for the DBS, we can't speak to how it tastes. Whatever you're into, it had better not include taking things literally, because for a car with nomenclature that translates from Italian as "superlight," it sure feels heavy.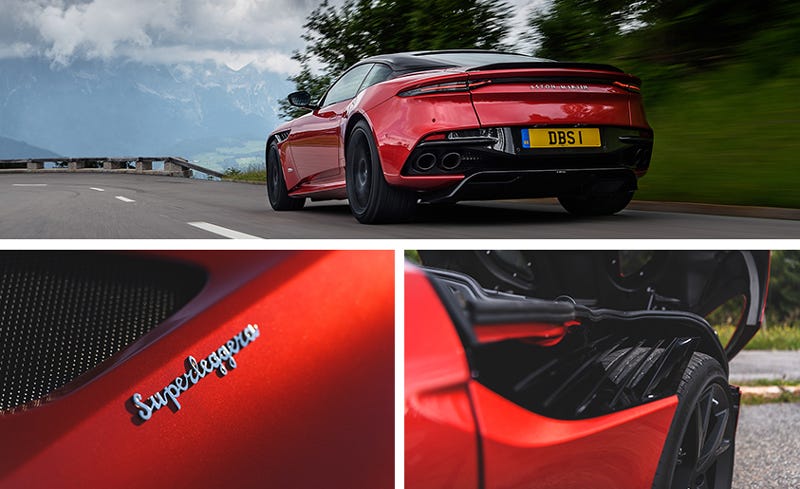 The misnomer is licensed from Touring Superleggera, the Milanese coachbuilder whose contribution to the DBS project is superleggera in that it doesn't go much beyond the name. The connection is that Touring designed the original 1967 DBS and most recently assisted on a continuation series of new/old DB4 models.
But if you think we spent our time in the Superleggera winding along sinewy roads draped over the Alps along the Germany-Austria border whining about the name and Instagramming its sexy body, you're only half right. Superpotente!
Aston Martin earns a great deal of rhetorical cover for the "super" half of the name and generates a key "why buy" with the 715-hp twin-turbo 5.2-liter V-12 engine parked beneath those squiggly hood badges. It is exactly the same engine used in the DB11 AMR, the car on which the Superleggera is based, only with a few electronic tweaks that unlock a further 4.4 psi of peak turbo boost resulting in an extra 85 horsepower and 147 lb-ft of torque. Although no internals were changed, Aston Martin swaps in ZF's higher-torque-capacity 8HP95 eight-speed automatic transmission in place of the DB11's lighter-duty unit and sends power to it via a carbon-fiber prop shaft spinning in an aluminum torque tube.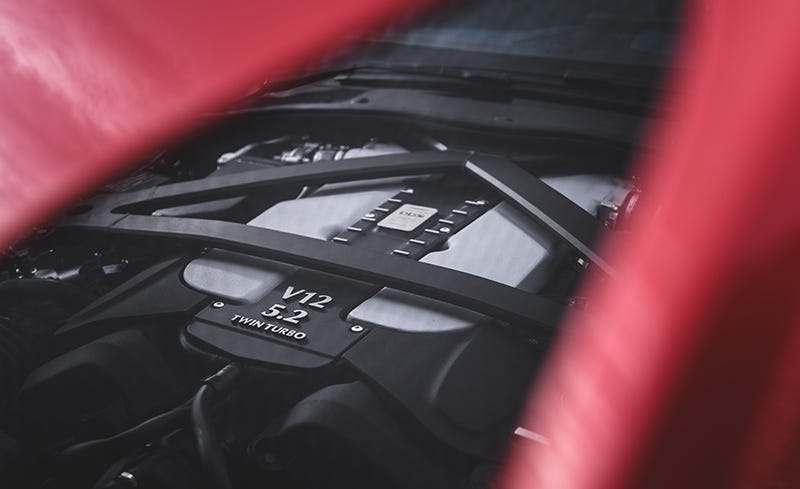 Suffering no discernible turbo lag and building thrust linearly, the 715-hp V-12 belies its forced induction only with its surfeit of low-rpm torque, which happily sticks around until redline. The turbochargers don't stifle the V-12's voice so much as guide it toward lusty, bass-heavy notes. At full throttle, the shrill, supercharger-like whine of the oil pump is audible over the blues ensemble. Did the naturally aspirated 5.9-liter V-12 that powered the DBS's predecessor, the Vanquish S, sound better? Yes. But it also made 198 less lb-ft and 135 less horsepower.
So overmuscled is this engine that Aston Martin curtails peak torque in first, second, and third gears in the GT and Sport modes (which are selected independently from the suspension's settings). Even in the more aggressive Sport+ mode, it manages torque through second gear. As if to make the rear tires' search for traction that much harder, a shorter 2.93:1 final-drive ratio is substituted in place of the DB11's 2.70:1 unit. Aston Martin conservatively claims the run to 60 mph should take 3.4 seconds.
Lay into the throttle, and the DBS just keeps on charging—hard. Between construction zones on Germany's autobahn, we worked the car up to 140 mph as if we were stringing together two ends of a city block. The Superleggera's splitter, underbody work, and fixed carbon-fiber lip spoiler are said to generate 132 pounds of front downforce and 265 pounds of rear stick at its 211-mph top speed and ensure the car is one-hand-on-the-wheel stable at triple-digit speeds. Were it not for the blurrier surroundings and some tire and road noise, 100 mph would feel like puttering through a school zone.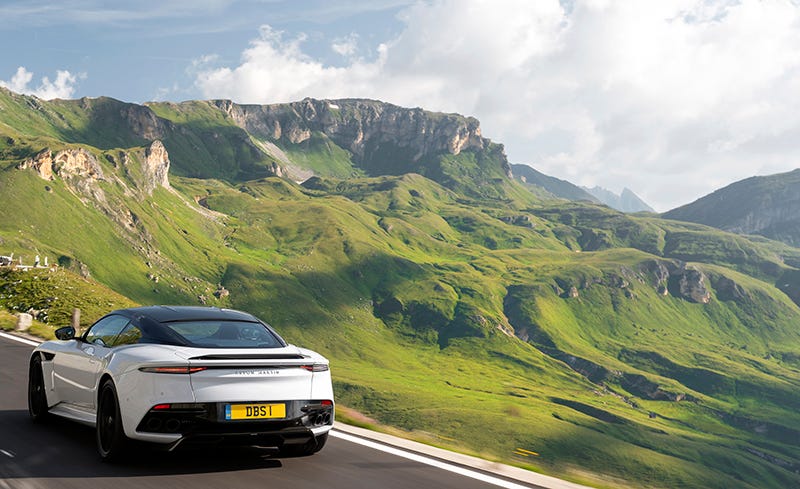 And although it isn't Superleggera, the DBS is at least slightly more leggera than its less super sibling. The switch from aluminum to carbon-fiber bodywork—draped over the DB11's aluminum-intensive body shell—along with an optional titanium exhaust and carbon-fiber roof panel saves 159 pounds, according to Aston, bringing the DBS to just over two tons. The carbon-fiber fenders, hood, and trunklid add back to the equation an extra dollop of style. With more rounded rear-fender bulges and a smattering of chiseled creases running across the hood and the body sides, the Superleggera is at once prettier, more classically shaped, and even more modern in its detailing than the DB11.
It also is slightly sportier than the DB11 and the Vanquish that came before it, although like both of them the Superleggera rides firmly and deliberately, its suspension motions hinting at its mass rather than masking it. In all three of its settings, the adjustable suspension is livable. We found the mid-level Sport mode strikes the ideal balance, allowing just enough body roll for the driver to keep a casual handle on the tires' grip without sacrificing overall stability or all-day ride comfort.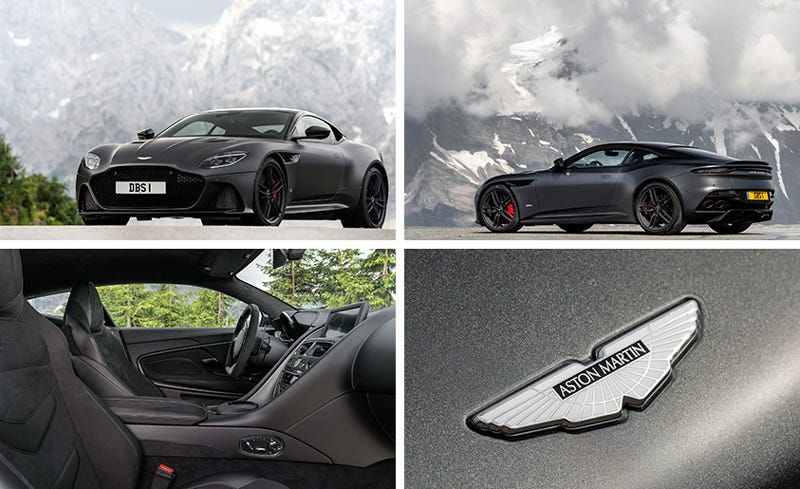 You'll never forget the DBS's size, particularly on tighter roads where quickly working the slightly square-rimmed steering wheel means muscling through the helm's hefty weighting and overcoming the car's tendency toward understeer with gobs of throttle. Accelerating away from sharp, low-speed corners, you'll feel some squirming from the rear end that seems to originate from the rubber bushings between the subframe and the body. While disquieting in hard driving, that compliance helps keep at bay the suspension noise and vibration present in the Vantage and, to a lesser extent, the DB11. More welcome squirming wriggles through the steering in the form of feedback, but the information is muted. The standard carbon-ceramic brake rotors—upsized relative to the DB11's—proved invaluable in slowing the Superleggera, although they do have grabby responses to initial pedal inputs.
Super . . . usable?
Tie the refined chassis to the impeccably assembled cabin that's refreshingly unweird for a car like this, and you have a knockout coupe that's easy to live with. High-speed nation-crossing in the DBS is less fraught with distraction than in the outgoing Vanquish, thanks largely to Aston's switch to a lightly reskinned version of Mercedes-Benz's familiar COMAND infotainment system. The brand's technical partnership with Mercedes-AMG could have borne no other fruit than this replacement for Aston's outdated, janky infotainment and we would have been thrilled. (AMG also provides V-8s to Aston Martin.)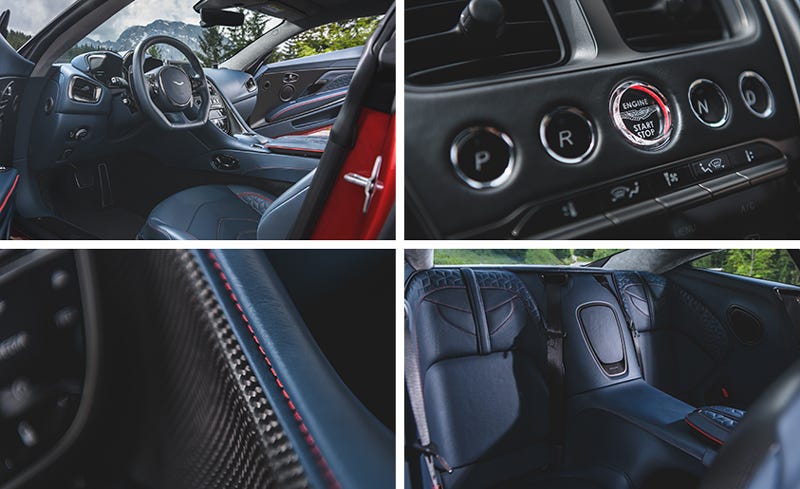 A simple array of pushbuttons activates the Superleggera's automatic transmission, another everyday-friendly component uncommon among high-dollar speed machines typically saddled with jerky single- and dual-clutch automated transmissions requiring multistep sequences to engage drive. Press the D button, lift your foot off the Aston's brake, and the car creeps forward like, well, any car with a normal torque-converter automatic. Other than a minor hiccup or two when stomping the gas while rolling at low speed—leading to an indecisive downshift—the Superleggera's gear selection, quick responses to inputs from the column-mounted shift paddles, and firm shift quality impressed.
Should you want to set your nerve endings on fire, by all means hop into the similarly large, slightly pricier, entirely more aggressive Ferrari 812 Superfast, the car Aston bills as the DBS's primary competition. The way that 74-hp-stronger Italian dances through corners perched on its tires, its lightning-quick steering twitching as its naturally aspirated V-12 effortlessly shrieks toward redline, mainlines a sense of lightness straight to the driver's frontal cortex. It's almost as if that car's name and this one's should be swapped. Nevertheless, Aston Martin's newest flagship is the more well-rounded choice, a proper traditional GT in all but name that happens to be faster, prettier, and flat-out better than the car it replaces without trying to be the sports car it isn't.
Article By: ALEXANDER STOKLOSA
Read more at CARANDDRIVER.COM