2018 Mercedes-Benz S560 4Matic Coupe Review
2018 Mercedes-Benz S560 4Matic Coupe
Cruiser-class comfort.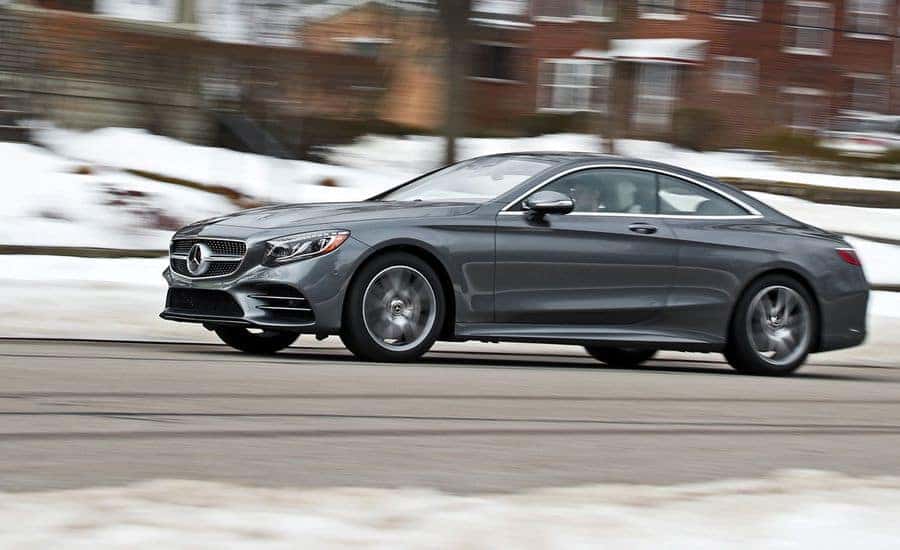 Unlike many modern vehicles that take a Swiss-Army-knife approach in an attempt to please everyone, the Mercedes-Benz S-class coupe is focused on just one mission: cosseting the driver and front-seat passenger.
HIGHS
Understated elegance, more-than-adequate acceleration, buttery nappa leather interior.
LOWS
A shame to limit it to just four passengers, stingy rear seat, maybe too understated?
In refreshing the S-class coupe for 2018, Mercedes-Benz wisely took care not to disrupt its graceful appearance. Abrupt change can be viewed as a weakness in this segment, so Mercedes took the safe route for this refresh by limiting the exterior alterations to revised front and rear bumpers, updated headlamps, and OLED taillamps. Even when fitted with the $5900 AMG Line package (AMG wheels, a different body kit, a "diamond-block grille" with chrome tips, and stainless-steel pedals) seen on our S560 4Matic test example, the big coupe embraces the present while remaining a work of understated elegance.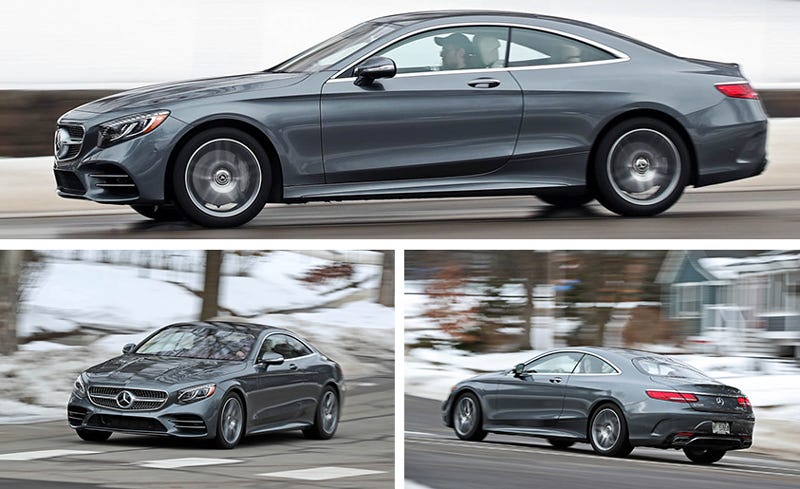 The big change takes place under the hood, where the corporate twin-turbocharged 4.0-liter V-8 replaces the aged 4.7-liter unit. Rated at 463 horsepower and 516 lb-ft of torque, the new smaller engine tops the outgoing V-8 by 14 horsepower and matches its torque output on the nose. The nine-speed automatic transmission returns for an encore, lending an air of familiarity to the proceedings.
Fans of sitting will have a hard time finding a nicer place to do so than the front seats of the S560. It's a relaxing environment, every surface as soft and unspoiled as a dream sequence in a Hallmark Channel romance movie. Cycling through the new Energizing Comfort system allows the driver or passenger to select one of six predetermined programs that tailor the climate control, ambient lighting, massage, and fragrance functions to a theme, all guaranteed to take the edge off a long day of wealth-having.
Tech updates include Benz's Widescreen Cockpit, essentially a pair of 12.3-inch displays that combines the instrument cluster and infotainment screens into what reads as a single unit that stretches across two-thirds the width of the dash. The content can be displayed in designs dubbed Classic, Sporty, or Progressive, and it's possible to view certain information, such as the navigation or fuel-economy data, in the center of the instrument cluster. Small touchpads on each spoke of the steering wheel—think tiny laptop trackpads, one for controlling each screen—allow the driver to operate the infotainment system without lifting a hand off the wheel. While initially off-putting, their use becomes second nature as soon as your muscle memory adapts to the sensation, at least for those without hardened calluses on their fingertips and thumbs (which should present little challenge to the car's target demographic). Apple CarPlay and Android Auto are present, and inductive charging is offered in the stowage compartment at the front of the console.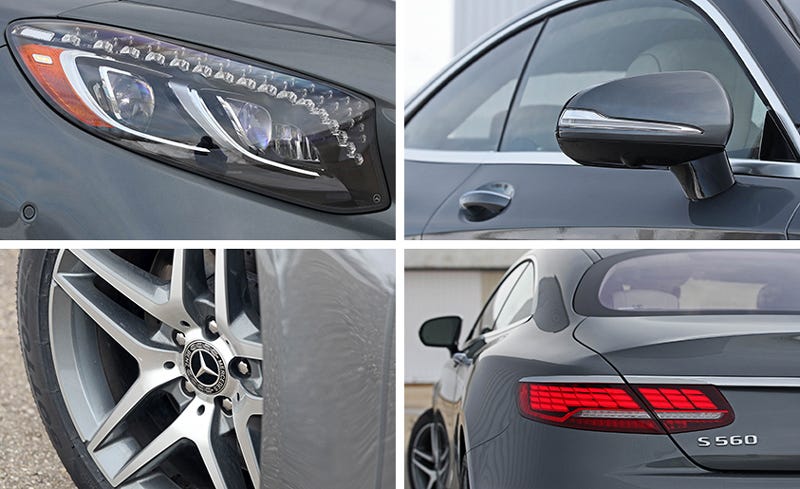 Velvet Drive
Although neither slow nor sluggish, the S560 coupe feels as if its chassis and powertrain are constantly monitoring their actions to make the comfort of the passengers a priority. If that sounds like a recipe for lazy acceleration, however, the numbers we recorded say otherwise. Consuming only 4.0 seconds to complete the zero-to-60-mph sprint and clearing the quarter-mile in just 12.5 seconds at a trap speed of 114 mph, this car is capable of serious urgency when the mood strikes. Maximum velocity is a mere 131 mph, however, at which point the governor steps in to avoid exceeding the speed rating of the all-season Pirelli tires—but as our tester noted, it "hits the governor hard." Braking from 70 mph required 178 feet to haul the 4751-pound, all-wheel-drive coupe to a stop. Arguably the most impressive statistic produced by the S560 is the 29 mpg it returned on our 75-mph highway test, beating its EPA estimate by 2 mpg. We observed just 17 mpg overall, 4 mpg less than its EPA combined figure.
The S560 has that familiar soft but precise steering feel that essentially has defined Mercedes-Benz vehicles in the modern era. Steering action is direct and linear but keeps any intimate secrets to itself regarding the liaison between the 19-inch Pirelli Cinturato P7 All Season Run Flat tires and the pavement.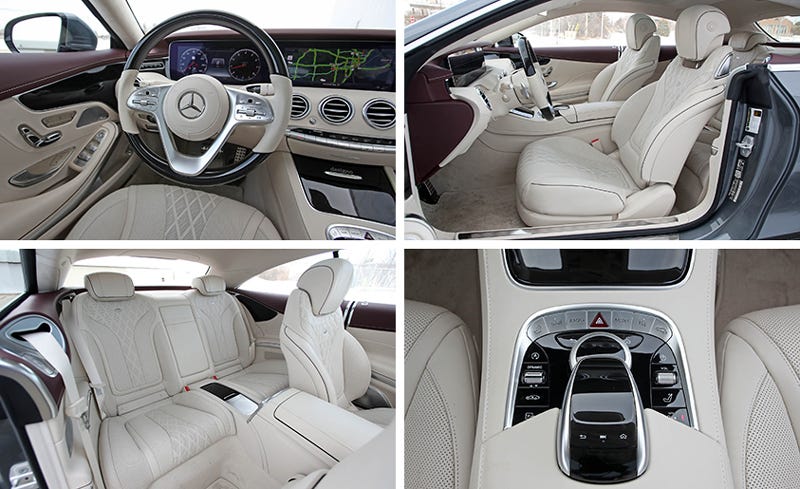 Despite this car's maintaining a whiff of that old-school Benz analog feel, the march toward autonomy proceeds. Mercedes-Benz has fine-tuned the optional Distronic active cruise control, giving it the ability to automatically adjust the set speed based on changing speed limits or curves in the road. Likewise, the steering-assist system has been upgraded to maintain lane position even if the road lines are unclear or nonexistent, and it can follow tighter curves with "more precision," says Mercedes. While it's nearly impossible to quantify the claimed improvements, we never tired of alarming unknowing passengers with brief moments of hands-off-the-wheel antics. Combine these features with the long list of driver aids already onboard, and it's clear Mercedes is striving to remain on the forefront of autonomous development and integration, even if it may be decades before the switch is flipped for true autonomy.
Although one can take an S560 coupe home for as little as $125,495, that'd be a bit like springing for a suite at the Plaza and not ordering room service. Our test vehicle indulged accordingly, arriving with a $3250 Porcelain and Titian Red Designo interior scheme, $800 piano-black wood trim, a $6400 Burmester 3D surround-sound system, $1750 for Swarovski crystal headlamp accents, a $2260 night-vision camera system, the $3500 Premium package (head-up display, surround-view camera, active multi-contour front seats with massage), and the $2250 Driver Assistance package (a full suite of passive- and active-safety features including Distronic cruise control, active steering assist, and an advanced automated emergency braking system). All in, our S560 totaled $151,605.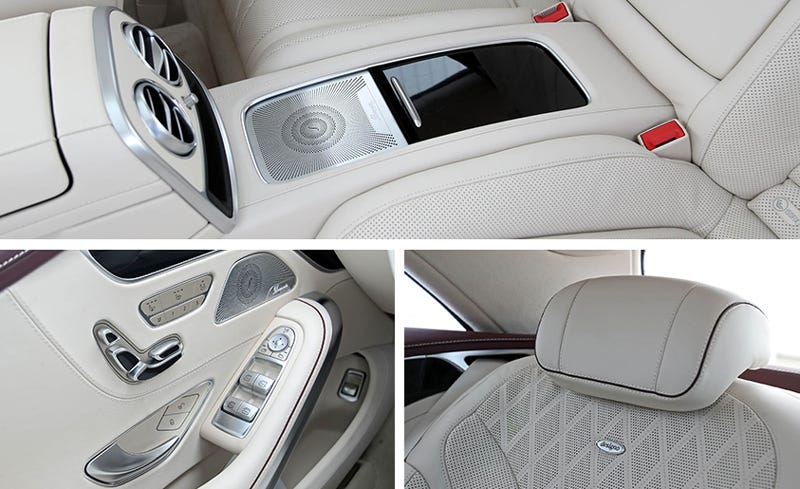 While that is what most people would consider a pile of cash, judging the S560 coupe's value is made more difficult because it has so few direct competitors. BMW stopped selling the 6-series coupe here last year (although a new 8-series coupe is on the horizon), and both Audi's significantly less expensive A5/S5 and Jaguar's F-type play to entirely different audiences. And while its numerous virtues and performance abilities match those of the Bentley Continental GT, the S560 starts at a cool $100K less. Really, the S560's primary competition comes in the form of the new wave of "four-door coupes," vehicles that attempt to offer four-door practicality while retaining a coupe's sleek roofline. The S-class has competition within Mercedes-Benz's own lineup, too, with the folding-hardtop SL and sportier Mercedes-AMG GT, although neither of those have a back seat. However, although the S-class coupe and cabriolet share their nomenclature with the jumbo S-class sedan, the two-door variants are substantially smaller, with back-seat space that has been shrunk past the point of being adult friendly.
Modern life is full of compromises. In an ideal world, we'd all be sipping 30-year-old Macallan while enjoying the sounds emanating from our vintage McIntosh tube audio gear, but in reality, most of us live a beer-and-Bluetooth existence. That goes for our vehicular lives as well, where timing, finances, and practicality conspire to dictate our choices. And that's a shame, as very few people will ever find themselves at a proper intersection of life in which to experience compromise-free luxury motoring as offered by the Mercedes-Benz S560 coupe.
JUNE 2018 
BY ANDREW WENDLER 
PHOTOS BY CHRIS DOANE AUTOMOTIVE
Read more at 2018 Mercedes-Benz S560 4Matic Coupe