CARANDDRIVER: 2018 Mercedes-AMG S63 Coupe
Civility meets brutality in the Mercedes-AMG S63 coupe. It is both Bruce Banner and the Incredible Hulk. Serene and savage, restrained and raucous, technologically adept and primitive in its ferocity, the S63 coupe is uncompromising. The titanic two-door successfully combines the decadence of a grand-touring car with the rapscallion heart of a sports car. And thanks to the arrival of AMG's twin-turbocharged 4.0-liter V-8, the S63's 603-hp ticker is 26 horsepower stronger than the twin-turbocharged 5.5-liter V-8 it replaces.
HIGHS
Sumptuous interior, devilishly delightful powertrain, cushy ride.
LOWS
Heavyweight mass, heavyweight price.
Hand-built in Affalterbach, Germany, the new eight-cylinder is a sweetheart that packs a 664 lb-ft punch from 2750 to 4500 rpm and eagerly revs to its 7000-rpm redline. Its bark is coequal to its bite, and the combination of the two twin-scroll turbochargers' legato spool mixed with the variable exhaust system's baritone notes produces a dulcet symphony that proclaims the potency of the S63 with every tap of the accelerator. Switching the exhaust from the default Comfort mode to Sport+ reveals an even more ferocious crescendo that snaps, crackles, and pops like the devil's own Rice Krispies.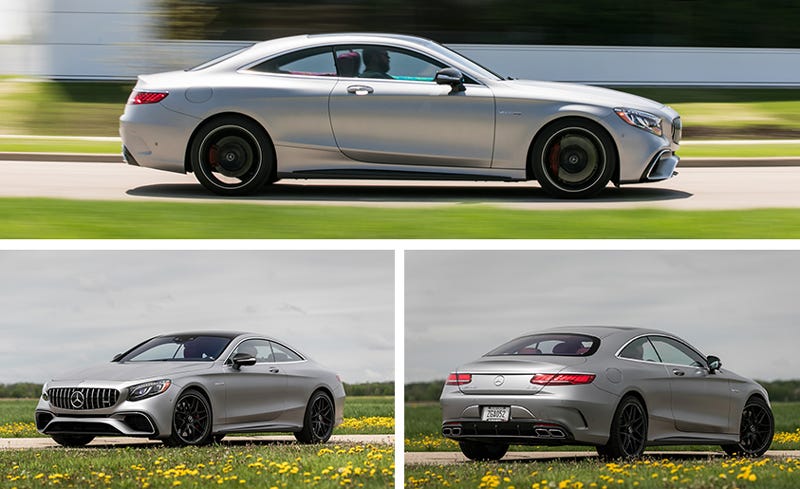 The all-wheel-drive S63's puissant powertrain is further improved by the addition of a new nine-speed automatic transmission. Like the prior seven-speed unit, the nine-speed gearbox does without a torque converter. Instead, a multiplate clutch serves as the coupling between the engine and the transmission. Whereas the previous transmission was prone to imprecise clutch engagement and occasional clunky, lurching low-speed behavior, the new nine-speed transmission engages with near torque-converter fluidity time and time again. It made no difference if we were sitting in stop-and-go traffic or using the launch-control system to rocket to 60 mph in 3.0 seconds—a full second ahead of the standard S560 coupe (which uses a version of the S63's 4.0-liter) and 0.7 second quicker than the S63 coupe with the previous 5.5-liter V-8. This 4784-pound coupe also beats the 1103-pound-lighter rear-drive Mercedes-AMG GT R to the mile-a-minute mark by 0.2 second.
Firmly planting the right pedal against the firewall resulted in a quarter-mile time of 11.2 seconds and a trap speed of 126 mph. The colossal coupe proved eager to accelerate at speed as well and managed to shave 0.3 second from the 30-to-50-mph and 50-to-70-mph times recorded by the more pedestrian S560 4Matic coupe.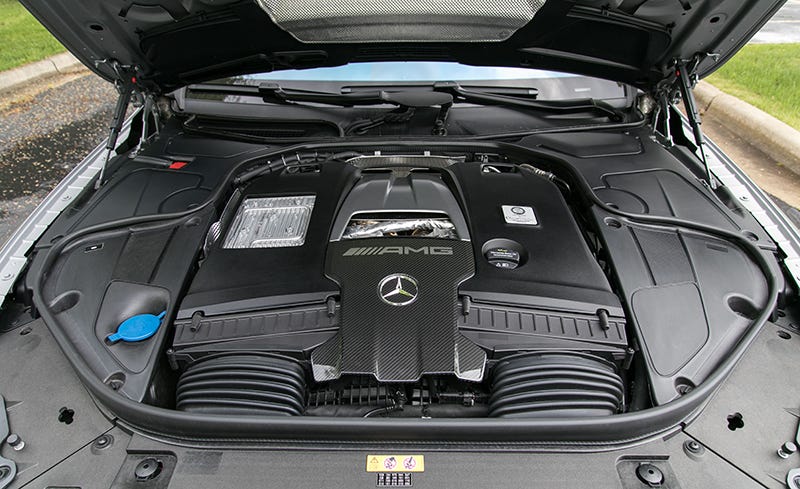 The S63 also impressed at the pump, where the EPA estimates the model at 17 mpg in the city and 27 mpg on the highway; we observed an average of 18 mpg. The previous S63 coupe managed less remarkable EPA figures of 15 mpg city and 23 mpg highway. Along with its smaller displacement, the new engine includes a cylinder-deactivation system that can cut fuel to half of the engine's cylinders when conditions permit. Cylinder deactivation is available when the S63 is in the default Comfort driving mode and can be initiated between 1000 and 3250 rpm.
One-Trick Pony
Despite its sports-car-like acceleration figures, the S63 was less adept when it came time to apply the brakes or tackle turns. Fitted with $2200 worth of 20-inch wheels wrapped in staggered-width Michelin Pilot Sport 3 rubber, it ate up 165 feet of tarmac on its way to a stop from 70 mph. Although a set of sizable 15.4-inch front and 14.2-inch rear rotors with six-piston front and single-piston rear calipers successfully warded off brake fade, the distance required to bring the coupe to a halt barely bettered the 166-foot stopping performance of a 1074-pound-heavier Mercedes-AMG GLS63 SUV.
Circling our 300-foot skidpad, the prodigious coupe managed to claw its way to a respectable 0.94 g, but it also exhibited noticeable understeer. The S63's air springs and adaptive dampers offer Comfort, Sport, and Sport+ modes. In short order, we settled on Sport mode for most of our driving, finding the ride too floaty and busy in Comfort and too harsh in Sport+. Regardless of mode, the S63's handling falls short of engaging. The car's mass and syrupy variable-ratio steering aren't conducive to convey confidence at the limit.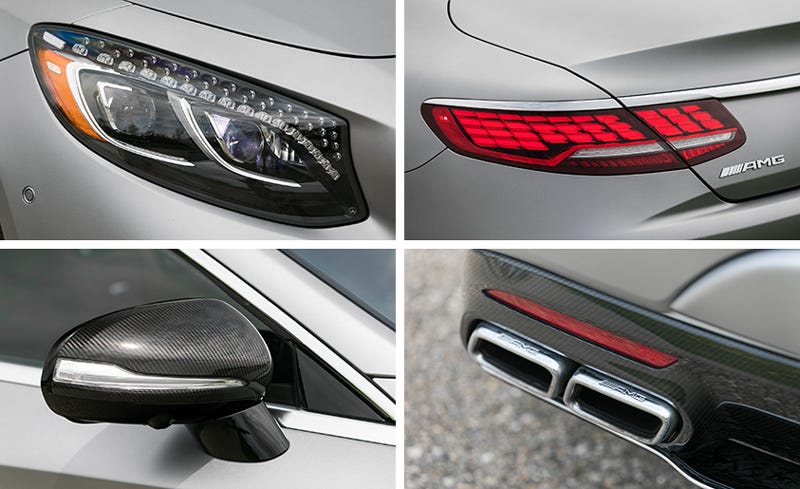 While these traits would be an albatross around the neck of a car such as the Mercedes-AMG GT, such characteristics actually befit the three-pointed star's flagship coupe. In fact, the combination of raw power and cosseting controls make for a surprisingly engrossing driving experience when barreling down back roads at less than a breakneck pace, as the all-wheel-drive system seamlessly sends torque forward as needed and the nine-speed automatic transmission responds quickly to taps of the chunky steering-wheel-mounted paddle shifters. In short, tackling tight two-lane roads in an S63 coupe is a lot like carving a turkey with a power saw—it may be the wrong tool for the job, but it sure is fun to slice with.
Comfort In
As in the S560 coupe, the S63's cabin pampers those within it, and standard features include a pair of supportive 12-way power front seats with heating and cooling functions, a surround-view camera, automatic high-beam headlights, lane-departure warning, blind-spot assist, and a navigation system. Mercedes' latest COMAND infotainment system is standard fare. The setup includes a pair of 12.3-inch screens, both of which rest under a single piece of glass. One screen is positioned in the driver's line of sight and combines a digital gauge cluster with infotainment functions; the other sits in the middle of the dashboard and is strictly limited to infotainment functions. Both screens can be controlled by way of a pair of touch-sensitive switches located on the spokes of the thick flat-bottom steering wheel. Alternately, the central screen can be operated by twisting, tapping, and pushing at the center-console-mounted COMAND control knob and associated touchpad.
Rear-seat passengers are appropriately coddled as well, with the lack of B-pillars aiding the view out and a sizable center console offering plenty of stowage. The large door openings make it fairly easy for passengers to get in and out of the snug back seat. Those planning to ferry two or more passengers regularly will be better served by the slightly more prosaic S63 sedan, however.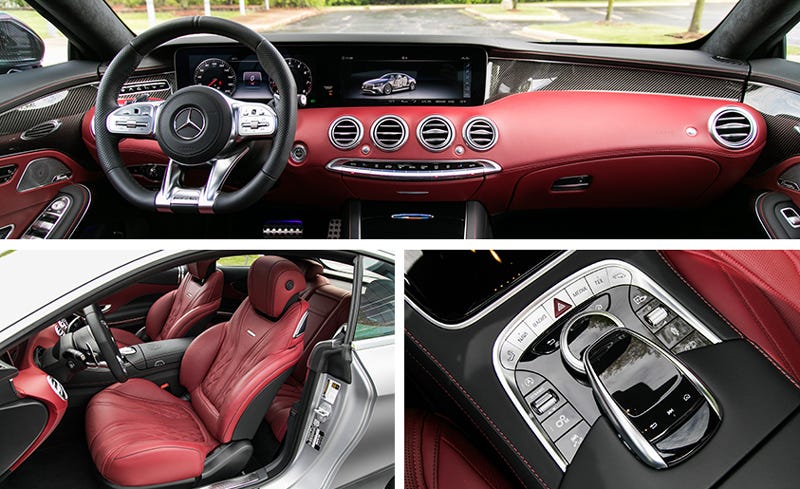 Predictably, the cabin is rich in detail and made with high-quality materials that look and feel appropriately opulent. Of course, purchasing an option-free S63 coupe is a bit like having just one Oreo cookie: It's damn near impossible to do. This example came equipped with a number of lavish luxury options, including a $6400 Burmester premium audio system with 26 speakers, $3700 worth of carbon-fiber and piano-black interior trim, $3250 for deep red and black leather seats and trim, a $2500 glass roof panel that uses electric current to alter the panel's transparency from deeply tinted to completely clear, a $2260 night-vision camera, the $2250 Driver Assistance package (adaptive cruise control, lane-keeping assist, and more), and the $1990 Warmth and Comfort package (heated rear seats, front armrests, and steering wheel). The only notable item missing from this S63's interior was the available $1100 rear-cabin refrigerator.
The S63 benefits from a refreshed exterior for 2018, which now sports AMG's Panamericana grille design as well as revised bumpers, headlights, and taillights. Our test car was further dressed up with the $6500 Carbon Fiber package (carbon-fiber front splitter, rocker panels, mirror covers, rear diffuser, and more), $3950 in matte-gray paint, $700 for red-painted brake calipers, and $1750 in Swarovski crystal headlamp accents for the daytime running lamps and turn signals.
The 2018 Mercedes-AMG S63 is a palatial performance coupe that combines the elegance of the Mercedes-Benz S560 with the rowdy accelerative aptitude of the Mercedes-AMG GT R. It's a delightful idiosyncrasy.