CARANDDRIVER: 2018 Jeep Wrangler Rubicon Unlimited V-6 Manual
The hardest-core Wrangler JL gains a wee bit of refinement.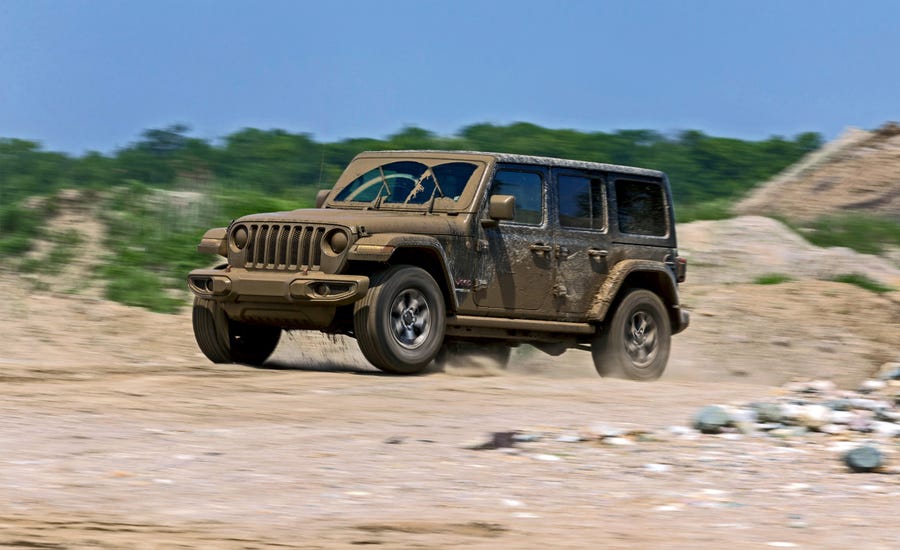 What It Is: The latest-generation Jeep Wrangler, in its most trail-ready Rubicon trim. Jeepers will recognize this Wrangler by its JL code name, as opposed to its predecessor's JK nomenclature. This is worth noting, since Jeep is selling the old model concurrently with the new one and both are labeled as 2018-model-year vehicles.
We have tested a two-door, stick-shift, base-model Wrangler JL as well as a glitzy four-door, automatic-transmission Wrangler Sahara JL with its new full-time all-wheel-drive system. (Every other Wrangler still uses a part-time system unsuited for use on dry pavement.) This Wrangler marks our first test of a four-door stick-shift JL and our first brush with the rugged Rubicon model. Given the Rubie's aggressive 33-inch-diameter off-road tires, dedicated suspension, and Dana 44 axles, it's worth visiting on its differences from the mainstream Wrangler lineup.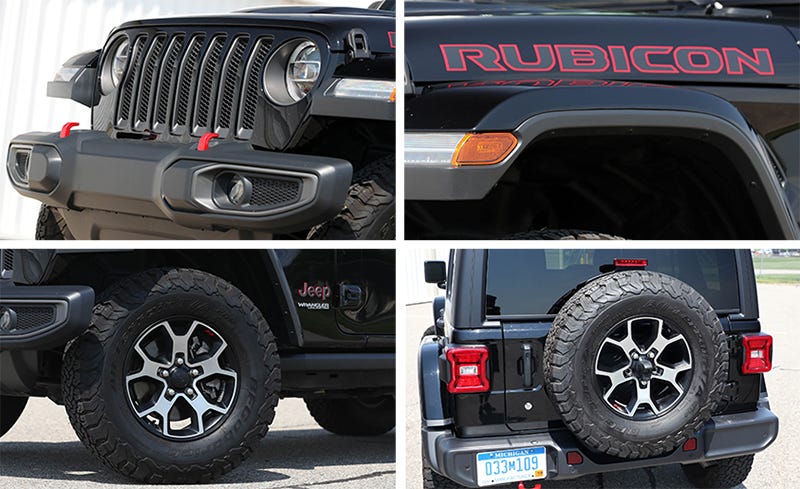 Why We Tested It and How It Performed: Previous Wranglers were all pretty horrendous to drive on the mean streets of the real world, but the new JL generation has made huge strides toward civility. Seated at the hardest-core end of the Wrangler spectrum, the Rubicon stands as the toughest test yet of the new model's maturity. As with the other JL Wranglers we've tested, this Rubicon came equipped with a carry-over 285-hp 3.6-liter V-6 engine; an all-new turbocharged four-cylinder gas engine with hybridization joins the lineup later along with a turbo-diesel. Spoiler alert: This Rubie is the heaviest JL we've tested yet. It's also the slowest.
The extra weight of this Rubicon's beefy tires, front anti-roll bar disconnect feature, bevy of locking differentials, and steel rock sliders (to protect the cab when off-roading) held its 60-mph dash to 7.5 seconds. The two-door, stick-shift Wrangler Sport needed just 6.1 seconds. The four-door Sahara model weighed just 100 pounds or so less than this vehicle, but it still smoked the Rubicon by 0.7 second thanks to its quicker-shifting eight-speed automatic transmission and lighter wheel-and-tire package.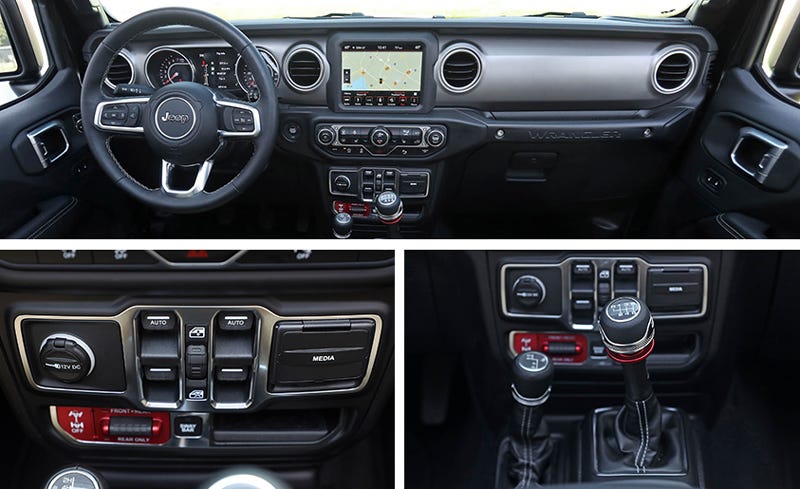 Fuel economy somehow doesn't suffer despite the aggressive tires and mass. We saw 22 mpg on our 75-mph real-world highway fuel-economy loop—2 mpg better than the automatic-transmission four-door Sahara and tied with the 607-pound-lighter, manual-equipped two-door Sport on the same evaluation. No Wrangler qualifies as "efficient," but consider 22 mpg the fuel-economy equivalent to a mugger leaving a five-spot in your wallet after holding you up for the rest.
What We Like: Jeep didn't erase all of the Wrangler's on-pavement character. The SUV still reminds the driver of its heritage, with jiggly body motions from its live axles and tall ride height, but it no longer feels unsafe when piloted at normal traffic speeds. This Rubicon, in particular, rides quite well, with gentle bump compliance from both the suspension and those tall-sidewall tires aided by a stiff, solid-feeling frame.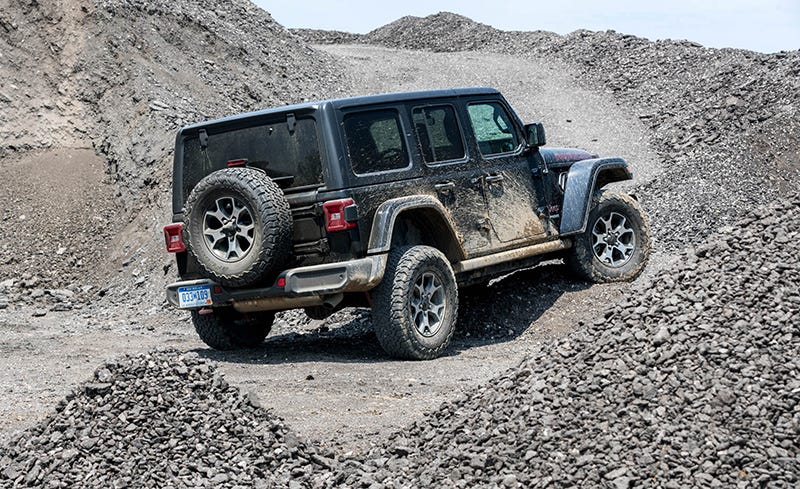 Surprisingly, the Rubicon's beefy BFGoodrich All-Terrain T/A K02 rubber doesn't sing much—either that, or wind noise still dominates the cabin's din at highway speeds enough to drown them out. Our hardtop-equipped test example was surprisingly docile on a 500-mile round-trip jaunt from Michigan to Chicago and back, with markedly lower interior noise than we experienced in its predecessor. Nor is the cabin as spartan. Our Rubicon came equipped with soft-touch door panels, sound-deadening panels for the removable hard top, and a spate of modern comfort and convenience features. Mixing modernish refinement and toys with Jeep's iconic styling is an alluring alchemy, particularly considering the Rubicon's handsomely brutish appearance, although die-hard fans might moan that it's going "soft."
What We Don't Like: Our complaints are few, considering the Jeep's off-road capabilities and newfound civility. Really, the negatives boil down to the Jeep's lineup-wide eye-watering prices—the four-door Rubicon starts at $42,440—and its sluggish acceleration. Sure, the interior is much improved, but it's now merely competitive with the average compact car, yet in a vehicle that costs $20,000 more. Some people like that the doors, roof, and windshield can come off, but that otherwise leaves this pricey vehicle feeling as if its skin is held together by straps. In some ways, it is.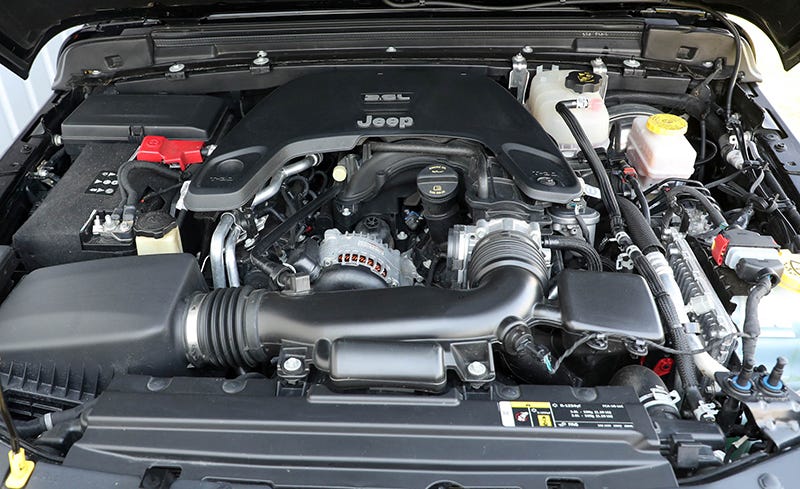 Extracting maximum beans from the V-6 engine is a chore using the six-speed manual transmission. We're all for Saving the Manuals, but since the V-6 makes its peak torque at 4800 rpm, one must spin it out (and listen to the grainy, pained noises that result) to make haste. Downshifts are an omnipresent necessity given the engine's seeming lack of low-end torque. We simply left it a gear or two lower than strictly necessary at all times just to ensure a reserve of passing power; even so, the engine feels as if it's constantly working hard just to maintain your chosen speed. The available eight-speed automatic is a much better partner to the V-6, and it'll be the only choice with the upcoming diesel and turbocharged four-cylinder gas engines.
Verdict: The Wrangler is better than ever at being a Jeep, and better than ever at masking that on the road.
JULY 2018 
BY ALEXANDER STOKLOSA 
PHOTOS BY CHRIS DOANE