CARANDDRIVER: 1965 OVC Shelby Mustang GT350R Continuation Series
The Real Deal: 1965 OVC Shelby Mustang GT350R Continuation Series Driven!
So authentic, even the new stuff is old stuff.
JUNE 2018 
BY STEVE SILER 
PHOTOS BY STEVE SILER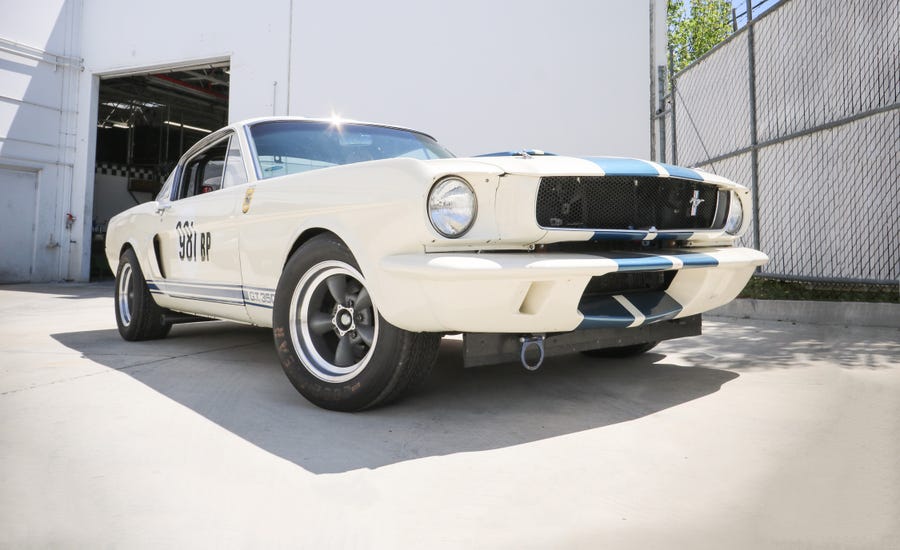 Few automobiles are as infused with the nostalgia of 1960s car culture as much as the 1965 Shelby Mustang GT350 Competition model, a.k.a. the GT350R. The Shelby-modified Ford Mustang took checkered flag after checkered flag in SCCA Class B races from its very first outing and for three years hence, legitimizing the Mustang as a performance machine and prompting General Motors and others to fast-track pony cars of their own.
HIGHS
Spectacular build quality, street legal and track ready, Shelby serial number, upgrades as authentic as the car itself.
LOWS
Occasional whiplash, quarter-million-dollar price, makes a Kia Rio feel luxurious.
Hagerty Insurance estimates the value of an original GT350R at between $700,000 and $1 million, so even if you have a vintage GT350R, chances are you wouldn't want to wail on it at the track every weekend. A replica would fit the bill—and they're out there—but would it really drive like the original?
The people who would know best would be the people who actually built the originals. And they're out there, too. Better yet, some of them have banded together to form Original Venice Crew (OVC) Mustangs, to build a "continuation series" of 36 additional '65 Shelby Mustang GT350 Competition models for use both on the street and the track. The cars can be spec'd either exactly as were the originals or with some upgrades that are said to have been in gestation back in 1965 but, for one reason or another, weren't on the GT350R when the FIA certified the car in February 1965, thus freezing its design and specifications.
We visited OVC's Gardena, California, shop—located inside a Shelby facility, incidentally—to get the full story from its CEO, former Shelby American mechanic and fabricator Jim Marietta, and to get a little seat time in his personal OVC Mustang GT350R. We entered the experience somewhat skeptical of the replica's authenticity. We came away not only convinced of its provenance but believing that we had just driven something even better than the most pristine GT350R one could find.
The Idea
The original intent was to build just one. Marietta was only 17 on January 2, 1965, when he started working on GT350Rs as a mechanic at Shelby American's shop in Venice, California. He says it was late in 2013 when the "continuous stream of ideas and thoughts" about building one more GT350R began, first at a reunion of Shelby employees and continuing at the annual SEMA party hosted by legendary racer and car designer Peter Brock (who penned the original GT350R's sundry modifications, among his other credits). Marietta ultimately enlisted Brock and fellow Venice crew mechanic Ted Sutton to transform one more "K-code" Mustang GT fastback, with its high-performance 271-hp version of Ford's 289-cubic-inch V-8 and four-speed manual, into a GT350R that Marietta would ultimately keep for himself.
The process wouldn't be easy but could be fun, he figured, involving finding and/or fabricating whatever was necessary to replicate the original's bodywork; stripping the interior and installing the same rudimentary set of gauges, period racing seat for the driver, and the stock passenger seat; anchoring the spare tire on the parcel shelf where the rear seats used to be; goosing the engine to Shelby specs; and painting the whole thing Wimbledon White with Guardsman Blue stripes.
"The original premise was to build it as close as possible to the way we did 50 years ago, with the same people, and have it perform the same way," said Marietta, who after working at Shelby American went on to become an accountant and the owner of multiple small businesses. He hadn't yet considered improving on the GT350R—or building more than one. But another Mustang fan got word of his plans, and soon one became two.
The Upgrades
Then Brock chimed in. Brock's original modifications to the '65 GT350R are well-known to Mustang fans and include hand-pounded rear fender flares to clear wider tires; a hood scoop; plain rear quarter-window panels in place of the GT's louvers; a complex "humpback" plexiglass rear window that created a slot under the roof for ventilation; and a graceless air intake in the front end that looked like someone threw a brick through the non-R car's nose. If it looked a little slapdash, that's because it was, in fact, unfinished.
According to Marietta, much of Brock's GT350R work was left on the drawing board—literally—when Shelby's shop moved from Venice to El Segundo while Brock was in Italy on another Shelby assignment. "Peter says to me, 'You know, I had this stuff on my drawing board . . . and by the time I got back, the car was so far down the line that nobody wanted to change it,'" Marietta recalled.
With the GT350R's original designer offering to finish what he had started, thus showing the world how he meant for the car to look all along, Marietta decided that certain items that weren't included on the original GT350R could be made so long as they were in development at the time. Ultimately, a suite of upgrades—not to be confused with updates—were made to his car, and each is offered on the customer examples as well.
Conveniently, during our visit the OVC shop contained one car that was rendered exactly like the original (it's destined for a European customer who intends to enter it into FIA vintage-racing events), in addition to Marietta's car, which features all of the upgrades. The subtle visual tweaks give the car a much more complete look. It's as if the GT350R just received a midcycle enhancement, only after a 50-year break.
Chief among the changes include the rear window. While the original's humpback plexiglass rear window helped ventilate the cabin, it badly distorted rearward vision. Plus, it looked funny. "Peter said, 'If this had come back from the shop like this I'd have sent it back. This is not how I designed it.'" Marietta points to his car's new rear window, which is both flatter and set at a flatter angle. "That's what Brock had originally envisioned in 1965."
Brock also reincorporated a front bumper across that gaping maw, simultaneously giving the nose a more finished appearance and better targeting airflow to specific engine components, according to Marietta. The circular holes in the original fascia were reshaped into vertical slots to direct cooling air to the front brakes via new metal ducts. Side scoops cut into the body aft of the doors perform the same function for the rear brakes via ductwork of their own. The rear quarter-windows that allegedly weren't ready in time for the GT350R's first run have found their way onto it this time around. Everything else you can see and touch remains as it was in 1965.
The Engine
At the time, the standard Shelby GT350's 289-cubic-inch V-8 made 306 horsepower, and the GT350R kicked it up to a stout 360. That was fearsome power back then, but with today's base Mustang getting 310 horses from a four-cylinder and the GT350R's 2018 namesake pumping out 526, it's hardly surprising that OVC wanted more. Specifically, it uses a Shelby Race Engines iron-block mill that essentially is the same 289 that came with the K-code, enhanced using bolt-on parts with no internal changes—similar to the way power was ratcheted up in 1965. The upgrades themselves are different, however, and include electronic ignition, aluminum heads, a competition camshaft, and a "stroker" crankshaft that raises displacement from 289 to approximately 331 cubic inches.
Open the hood (which you'll probably be asked to do whenever you park this car) and even the most ardent Mustang fanatic will be hard-pressed to tell that the OVC car's engine, with its aluminum valve covers and hand-formed intake plenum the size of a mixing bowl, is any different from the original's. But different it is, producing a more respectable 460 horses, accompanied by 420 lb-ft of torque in a car weighing less than 2800 pounds.
"These modifications are a normal progression that, more likely than not, would have progressed at Shelby's race shop as well," Marietta says, asserting the car's authenticity despite the power increase, which has prompted a still-ongoing search for a more robust four-speed manual transmission than the Borg-Warner unit that came with the original.
Purists may scoff, but given that OVC still uses a Shelby engine based on the 289, we're not too concerned. After all, race cars are often works in progress, and drivers experiment with new components all the time. And for anyone really concerned with exact replication, OVC is happy to build the engine to FIA-approved specs.
The IRS
Marietta raises his car up on a hoist, pointing out its beefier front spindles, thicker front brake discs, and—the most significant mechanical upgrade of all—an independent rear suspension (IRS) that had been intended for the original Mustang but reportedly was shelved before it was finished due to concerns about production costs. He and Brock decided that, while they were finishing so much other stuff left undone on the original GT350R, they might as well put the IRS on his car and finish that job, too.
According to Marietta, the original independent rear suspension had been engineered for benign street use, leaving the car generally prone to understeer while making things "a little squirrelly" at the limit. With the help of three notable test drivers—current Shelby American vice president Vince LaViolette; former Shelby racer and 24 Hours of Le Mans class winner John Morton; and Rick Titus, son of Shelby superstar driver Jerry Titus—Marietta and company completed the engineering work left undone 50 years ago. "Now it's neutral," he said. "Once we did that, everybody thought it was great."
The two Mustangs debuted at a Los Angeles Shelby American Automobile Club (LASAAC) event in early 2015 celebrating the 50th anniversary of the GT350's first racing victory at Green Valley Raceway in Texas. Both of the "new" GT350Rs wore the number 98 as an homage to the race-winning GT350R driven by Ken Miles, as well as many race cars driven by Carroll Shelby himself. Marietta's car was dubbed 98i to denote its independent rear suspension.
Rick Titus says that, with its superior cornering stability, the IRS makes the car more nimble and predictable in corners, but that the one equipped with the solid axle can "run off and hide on the straights." Ultimately, however, the IRS-equipped version gets around the big track at Willow Springs a full second faster. Incidentally, Willow Springs is the same place where OVC tests and verifies each car it builds, just as Shelby did with the original GT350 50 years back. How the IRS might have changed the GT350R's fate in its racing endeavors is unknowable, but it probably wouldn't have hurt.
Marietta didn't need a business case when deciding to produce a continuation series, he said. Several people asking, "When and where can I get one of those cars?" was enough. Anticipating this, Marietta established Original Venice Crew Mustangs in 2014, and OVC received the legal blessing of both Ford Motor Company and Carroll Shelby Licensing, Inc, to use their logos and branding; each car will also receive an official Shelby serial number and will be entered into both the Shelby American Automobile Club and the official Shelby American registries. The price was set at a cool $250,000, which includes the cost of a suitable 1965 (or potentially a '66) K-code Mustang fastback donor car.
Sound and Fury
Finally, it's time to experience the car in action. Sitting low and looking spectacular on its fat, period-correct Goodyears, 98i is amazing. I flop into the passenger's seat and latch the various connections of the thick, four-point harness.
Buh duh DUP! Buh duh DUP! Buh duh DUP! The sharp staccato sounds exit the car directly beneath the doors, ricocheting off the walls while Marietta maneuvers the car out of its spot. As we idle out away from the shop, the engine rocks the car back and forth, its latent potency made obvious in a way that only a stupidly powerful, totally uninsulated mid-'60s pony car can.
Marietta turns onto South Figueroa Street and dips into the throttle, shoving me back into my seat to the accompaniment of a crescendo of engine sound. He dips deeper in second gear, which pushes me even farther into the seatback and fills my head with exhaust roar. At maybe 50 mph—I was already inebriated by the sound—Marietta lets loose, sending the competition Goodyears on an initially futile search for grip. The rear steps slightly to one side, then the other, but ultimately falls into line as the tires find grip, whereupon my head and shoulders arch back over the seatback (being mid-'60s designs, both seats lack head restraints—and they're missed). Through the pipes come sounds I can only describe as the combination of a classical symphony during its furious climax and the launch of a space shuttle. We turn around, and Marietta maintains a rather nervy pace with the engine at full wail as we return to the shop. Now it's my turn.
I've never driven a '65 Mustang. My most recent experience in a steroidal muscle machine was in the wonderfully ridiculous 1036-hp Ringbrothers '72 AMC Javelin—and I came away sufficiently humbled that I vowed never to drive anything more powerful than a Mazda 3 again. That didn't last long, of course, but I nonetheless drove gingerly to ensure Marietta's car remained pristine. The clutch was nice and light if long in travel, but the gas pedal was well sprung, unlike the feather-light go pedal in that Javelin. By today's standards, the Mustang's thin-rimmed wood steering wheel seems downright quaint, and I've eaten olives larger than the shift knob. Dainty though they may seem, operating both takes some strength, at least at low speeds. As we pull out onto the street, I have even more respect for guys who raced these things so many decades ago.
Initially, I'm content just keeping up with traffic, hardly applying any throttle. The brakes are wonderful, grippy but not grabby. The sport seat feels exactly as it looks: like sitting in a punchbowl. It's comfortable and secure, at least for my lower extremities, as my upper body is left to flail about as physics see fit. The ride is firm but not violent, communicative such that I would know when I had traction and when I didn't.
Eventually, I have to hear that glorious, unmuffled soundtrack under the command of my own foot. The rear wheels are already dancing before the long-travel accelerator reaches the floor—there's so much torque and so little weight—on pavement ravaged by heavy truck traffic, a recipe for some sideways shimmy. And this was with the IRS. Without it, I don't imagine the car—or Marietta—would be so forgiving.
As we pull back inside the shop, I start racking my brain for other $250,000 cars that offer such an authentic and visceral experience. Other than figuring out how much power can be applied without breaking the rear tires loose on a given surface, there are no surprises. It talks to you. It's purer than cars are legally allowed to be these days.
"Producing these cars is maintaining the legacy of that time period," Marietta says. "It's to recapture as much of that feeling as possible and pass it along to others, the buyers of the cars. That is why the shop is set up in a Carroll Shelby–owned facility, the shop's motif is similar to the '60s, and we wear white uniforms, like we did some 50 years ago."
Having now experienced that feeling myself, it's clear to me why Marietta spent a half-century wanting to feel it again.