911 Carrera RS 3.8 | Once in a life time opportunity to own a piece of Porsche history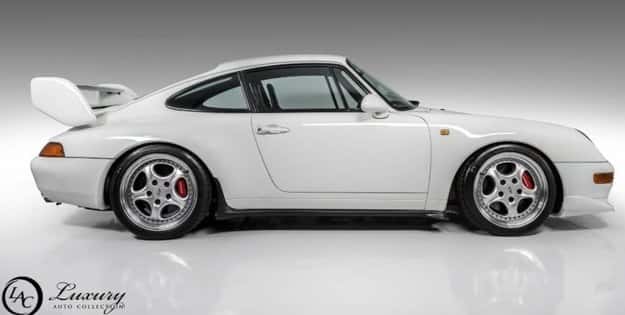 1995 Porsche 911 Carrera RS 3.8
---
Now only 2-weeks and counting, we are approaching of of the most anticipated annual auctions on the west coast! A place where you see priceless vehicles actually have a value placed on them and dreams come true for those who chase these so rare vehicles.  This year we are pleased to be partnering with RM Auctions to bring a incredible example of Porsche history to the market.
So join us in Santa Monica June 24th,  2017 or register to bid online because this car will be sold and you just don't get this type of opportunity every day to make a dream come true!
---
RM Auctions Description:
Three owner from new; displaying 24,520 km
Includes books and records
Features Clubsport options including the larger rear wing and front spoiler
One of 1,114 examples of the 993 Carrera RS
While all 911s have the reputation for being truly exceptional cars, the best of them are born and bred in the crucible of motorsport. The Type 993 Carrera RS is one of those very best. As it was based on the Carrera Cup competition car, and was specifically envisioned as a homologation special to qualify the RSR 3.8 for BPR GT3 and GT4 racing. As such, the Carrera RS was only offered to the European market, and it never made its way stateside when new.
At its heart is the 3.8-liter flat-six engine, which boasted numerous improvements over the earlier 3.6-liter version, allowing the 3.8 (Type M64/20) to produce 300 horsepower at 6,500 rpm and 262 foot-pounds of torque at 5,400 rpm. It was fitted with Porsche's innovated Variocam variable-length intake system and also featured newly designed forged pistons of a reduced height and a relocated wrist-pin, helping to keep piston weight below the standard 3.8-litre engine. The new engine also sported dual oil coolers and lightened rocker arms, amongst a host of additional upgrades that heightened the car's performance. The transmission is a six-speed manual and responds accordingly to help propel the 911 Carrera RS to nearly 175 miles per hour top speed.
Furthermore, the engineers at Stuttgart went to fervent extents to make the Carrera RS as light as possible. Its weight was brought down to a lithe 1,280 kilograms, as Porsche deleted virtually everything that was unnecessary, including central locking, radio speakers, power-adjustable seats, electric windows and mirrors, sound insulation, air bags, the rear defroster, and even the headliner. And Porsche didn't stop there. The Carrera RS features thinner window glass, an aluminum front boot lid and doors, lightweight, leather-covered seats, and lightweight interior door panels with traditional fabric pulls.
Mechanically, the suspension was upgraded with a front strut brace, ball-joint front damper mounts, and adjustable anti-roll bars, with five positions for the 24-millimeter front bar and three positions for the 21-millimeter rear piece. The Carrera RS also received a limited-slip differential, the same anti-lock braking system as the 993 Turbo, and ABS traction control.
This Carrera RS is a three owner machine that shows approximately 24,500 kilometers on its odometer and also has the Club Sport rear wing and front spoiler package. Among the equipment that is fitted to this 911 Carrera RS is optional air conditioning, AM/FM radio with cassette, and power windows. Additionally factory alloy wheels, Michelin Pilot Sport tires, power steering, power four-wheel disc brakes, plus all books and records are part of the incredible package.
The Carrera RS is not only the most exciting to drive but perhaps the most collectible, as it is the rarest and most focused iteration of the platform, with just over 1,000 examples built, of which none were originally imported to the U.S. Today, very few 993 Carrera RS have made their way to the United States and many of those are kept out of sight in private collections.
This model is perhaps the purest way to sample the marque's last air-cooled 911. With a definitive link to the iconic Carrera RS 2.7 of 1973, the 993 Carrera RS is indeed the final air-cooled RS model and the final link in a series of brilliant 911s. Its legacy is instantly apparent the moment one steps behind the wheel, and much like the Carrera RS 2.7, it will not disappoint on either road or track.
---
<!– Facebook Pixel Code –>
<script>
!function(f,b,e,v,n,t,s){if(f.fbq)return;n=f.fbq=function(){n.callMethod?
n.callMethod.apply(n,arguments):n.queue.push(arguments)};if(!f._fbq)f._fbq=n;
n.push=n;n.loaded=!0;n.version='2.0′;n.queue=[];t=b.createElement(e);t.async=!0;
t.src=v;s=b.getElementsByTagName(e)[0];s.parentNode.insertBefore(t,s)}(window,
document,'script','https://connect.facebook.net/en_US/fbevents.js');
fbq('init', '427730627416400'); // Insert your pixel ID here.
fbq('track', 'PageView');
</script>
<noscript><img height="1″ width="1″ style="display:none"
src="https://www.facebook.com/tr?id=427730627416400&ev=PageView&noscript=1″
/></noscript>
<!– DO NOT MODIFY –>
<!– End Facebook Pixel Code –>