JALOPNIK: American Pickers Found Aerosmith's Original International Metro Tour Van and it's Extremely Cool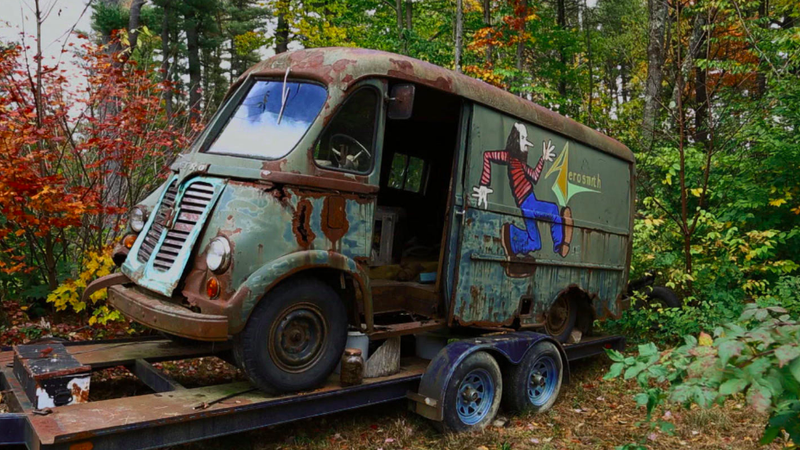 In a recent episode of the History Channel's American Pickers, the two hosts who drive around buying up antiques discovered Aerosmith 's original tour van in western Massachusetts. It's a 1964 International Harvester Metro Van, and after all these years sitting and rotting, it's still awesome.
Hosts Mike Wolfe and Frank Fritz found the old tour van—which the band used to get to gigs in New England in the '70s—near the small town of Chesterfield, about 100 miles west of Boston, according to Boston.com
There, a property owner said the van's crusty but awesome hulk (just look at that forward-control design and that great mural on the side) had been sitting partially buried in the woods when he bought the land, and that he'd heard that the previous resident had some sort of connection to Aerosmith.
To confirm the van's authenticity, Wolfe then reached out to a member of the band The Black Keys, who sent pictures of the quirky green and brown machine to Joe Perry of Aerosmith, who then contacted founding Aerosmith member Ray Tabano.
In the episode, Tabano comes to the property and looks at the van, confirming its authenticity, and even showing a picture taken decades ago of himself in that very Metro.
Wolfe and Fritz end up paying $25,000 for the van, which I hope will get a full, well-documented restoration. Partly because it's a piece of American music history, partly because I get joy from seeing vehicles this rusty getting fixed back up, but mostly because it's an International Metro. When was the last time you saw one of those?