CARANDDRIVER: 2018 Porsche Panamera Turbo Sport Turismo
Performance over practicality.
Think of the Porsche Panamera Turbo Sport Turismo as the automotive equivalent of a Michael Bay film. Its luscious visuals, potent athleticism, and explosive performance provide cover for the reality that the body style doesn't add much in the way of quantifiable substance to the Panamera model line. This is not to say, however, that it's not viscerally satisfying.
HIGHS
Goes like stink, stunning looks, it's a Porsche wagon.
LOWS
Frustrating infotainment system, small cargo hold for a wagon.
Speed and Style
The Turbo Sport Turismo is more adept at hauling ass than hauling extra assets. Armed with 550 horsepower courtesy of its twin-turbocharged 4.0-liter V-8, the Turbo is as savage as the Incredible Hulk in the grips of his famous rages. A mighty 567 lb-ft of torque is available before the tach crosses the 2000-rpm mark, a heady total that helped the all-wheel-drive wagon blast to 60 mph in 3.2 seconds and past the quarter-mile mark after 11.6 ticks at 120 mph. Lag from the two turbos is nearly nonexistent, and the burly V-8 pulls strongly all the way to its 6800-rpm redline.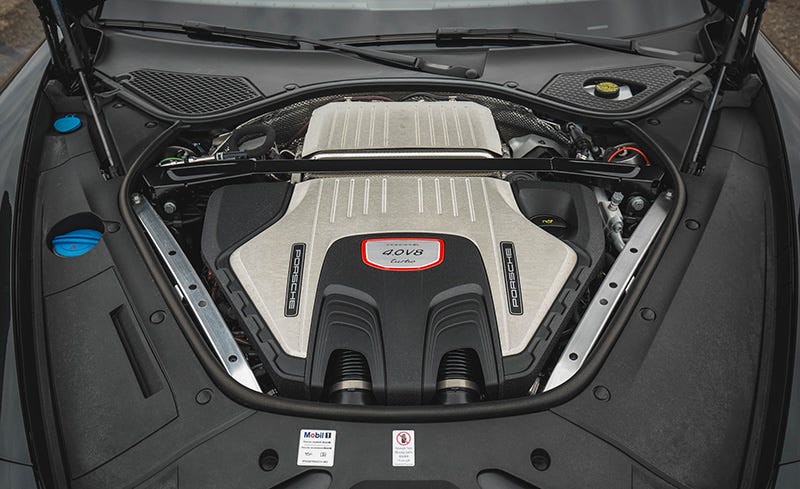 Passing performance is no less impressive, and the eight-speed dual-clutch PDK automatic transmission swaps cogs with deftness and precision, helping this megawagon scoot from 30 to 50 mph in a mere 2.5 seconds and from 50 to 70 mph in 2.8. Drivers wanting to take control of gearchanges can do so via the stubby console-mounted shift lever or by tapping a pair of weighty steering-wheel-mounted paddles.
Mammoth 16.1-inch front and 15.0-inch rear disc brakes clamped by six-piston front and four-piston rear calipers worked with a set of staggered Continental ContiSportContact 5P tires wrapped around 21-inch wheels ($2450) to bring this 4743-pound wagon to a halt from 70 mph in 145 feet—nine feet shorter than a 1403-pound-lighter McLaren 570GT. Additionally, this Panamera Turbo Sport Turismo returned an Audi R8–beating 1.01 g's around our 300-foot skidpad.
Although fuel economy is not this car's calling card, the high-horsepower hatch managed to match its 23-mpg EPA highway estimate on our 75-mph highway fuel-economy test. We managed only 16 mpg overall, however.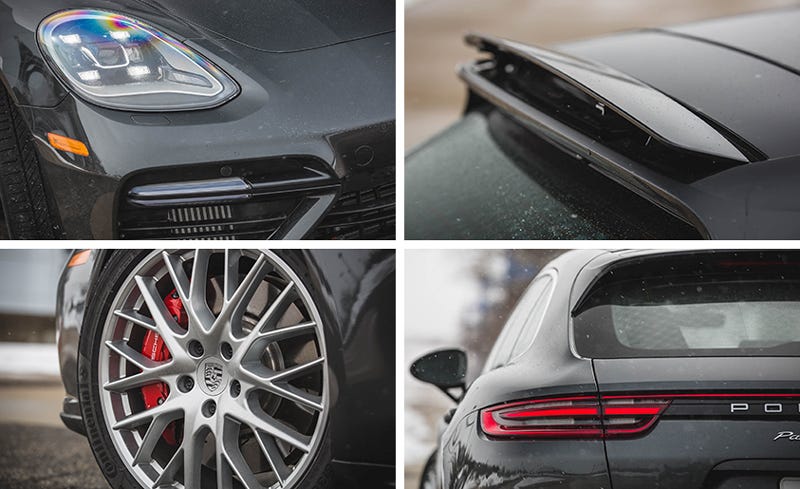 Chassis Choices
In spite of its eye-widening acceleration, the 550-hp Sport Turismo lacks a certain je ne sais quoi we expect from a capital-T Porsche Turbo. The automaker's famously tactile steering is noticeably absent from the Panamera, and the car's quick but numb rack was further muddled by this example's $1620 rear-axle steering system, the movements of which consistently felt a few milliseconds behind those of the fronts. This presented a disconnected feeling between driver and vehicle at turn-in while also making it difficult to properly place the Sport Turismo in corners at higher speeds.
Body roll, however, is kept to a minimum thanks to the standard adjustable four-corner air-spring suspension, as well as this car's $5000 Porsche Dynamic Chassis Control Sport package, which adds active front and rear anti-roll bars and a torque-vectoring rear axle. Furthermore, our Sport Turismo's $2530 Sport Chrono package allowed us to easily and quickly change the ride quality from pillow soft to firm but forgiving with a twist of a steering-wheel-mounted driving-mode switch. (The package also includes a dashboard-mounted stopwatch.) Normal, Sport, and Sport Plus settings are available, as is a customizable Individual option. In rip-snorting Sport Plus mode, the Panamera hunkers down to its lowest suspension setting, uncorks its baritone exhaust pipes, adjusts the mapping of the throttle and transmission, and adds heft to the electrically assisted power steering.
Bad Touching
Arguably, the Panamera's most egregious sin is its confusing and complicated infotainment setup. Anchored by a giant 12.3-inch touchscreen and a number of touch-sensitive pseudobuttons scattered across the center console, the system is an ergonomic mess made worse by its complicated menus, small fonts, and irksome center HVAC vents, which are adjusted by pecking and swiping at the screen rather than manually moving the vents. An example: the dimmer adjustment for the gauge cluster is buried in a menu that can't be accessed while driving, and the same adjustment for the center screen is in a different menu. A pair of 7.0-inch screens flank the analog tachometer but seem underutilized; save for a full-map navigation view, few multimedia functions can be displayed on the instrument-cluster screens. Porsche would be wise to crib from corporate cousin Audi to develop a more user-friendly infotainment system.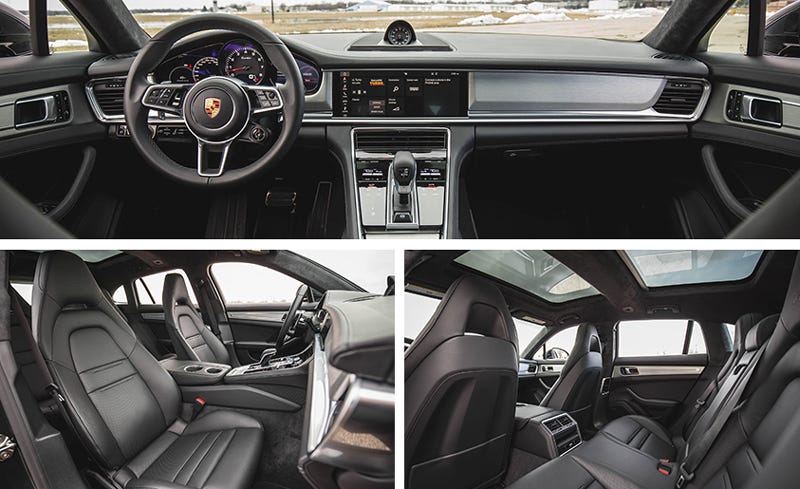 Infotainment foibles aside, the Panamera Turbo Sport Turismo features an exquisite cabin with high-quality fit and finish and a rich assortment of materials. Along with standard niceties such as a panoramic sunroof, navigation, Apple CarPlay compatibility, LED headlights and taillights, 14-way power front seats, and heated front and rear seats, our $170,100 test car included a $1060 blind-spot monitoring system, cooled front seats for $840, soft-close doors for $780, power-operated rear sun shades for $490, and a heated steering wheel for $280.
Wagonista
Elongating the roof adds a handful of perfunctory benefits to the Sport Turismo, as the more upright hatch opening and a 6.1-inch-lower lift-over height than the regular Panamera hatchback models makes it easier to load large items. Its marginally larger cargo hold also allowed us to fit in two more carry-on-luggage-sized boxes than the standard model, while folding the rear seatbacks allowed for an additional 13 boxes. Still, a Mercedes-Benz E-class wagon held over 50 percent more behind its second row and 20 percent more with the seats folded.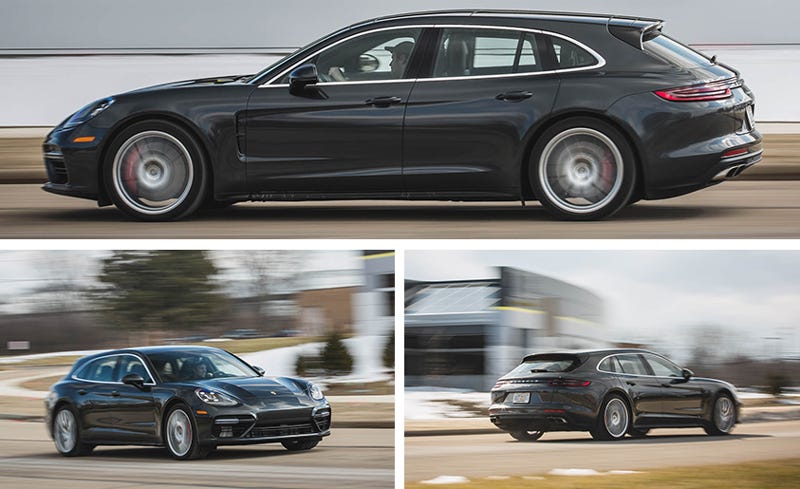 Rear-seat comfort improves slightly, as well, and the Sport Turismo boasts an additional 0.7 inch of rear headroom. A standard three-across rear bench is specific to the wagon and increases seating capacity to five. Alternately, one can replace the rear bench with a pair of power-adjustable buckets and a center console ($2020). Either way, rear-seat legroom in the Sport Turismo is merely adequate for larger adults, and the middle seating position is all but useless due to the large center hump in the floor required to clear the rear driveshaft.
Regardless, the 2018 Porsche Panamera Turbo Sport Turismo is a seductive package even if its versatility falls short of the promise its redesigned rear end makes. Like Michael Bay's Bad Boys or Transformers film franchises, the Panamera Turbo Sport Turismo's primary draws are sultry style and visceral thrills—and we're okay with that.
BY GREG FINK 
PHOTOS BY MICHAEL SIMARI
Read more at CARANDDRIVER.COM